The black car is a popular choice around the world due to its unique, graceful, and beautiful sight. But to maintain its paint shine is a little bit tricky as compared to other car colors. Because, on black car paint scratches, dust particles and swirl marks are more prominent and diminish the car's look. However, shiny paint intensifies the look and charm of your ride. The shiny exterior will not only draw curious glances wherever you go but also it increases the demand. 
So it is obvious to preserve the car paint and make it shine like glass. In this article, I will share a few tips about "How to make a black car shine like glass" so you can recover the glass finish of your black car.
There are some basic steps to restore the car paint shine and its glass-like look.
Proper car wash

Carefully dry your car

Use of clay bar

Use of paint polish

Wax application
1. Proper Car Wash
Car washing after a regular time period is an important part to make your black car shine like glass. Cleaning the car's surface thoroughly is essential to remove all the dust particles and contaminants that can scratch the paint if you don't treat it carefully. Otherwise, it can also cause cloudiness on your car paint which is a very harsh condition to deal with.
First of all, close the windows and doors completely. Soak up the car shampoo in a bucket filled with water and wash the car with clear water. Apply the shampoo with a wash mitt because the wash mitt can easily pick up all the dust particles without scratching and making swirls on the car paint. Moreover, make sure that the shampoo should be pH neutral because most brands use bleach, ammonia, and other chemicals which can damage the wax that is applied to protect car paint. Additionally, gently apply the car shampoo with the wash mitt in a straight line. Since the application of the shampoo in a circular motion can make spider web swirls on your car paint. Rinse off the soap from car paint with clear water. 
Accessories required for car wash
Car Shampoo
The pH-neutral car shampoo is best for a car wash because it doesn't contain any harmful elements that can damage the car finish.
Adam's Car Wash Shampoo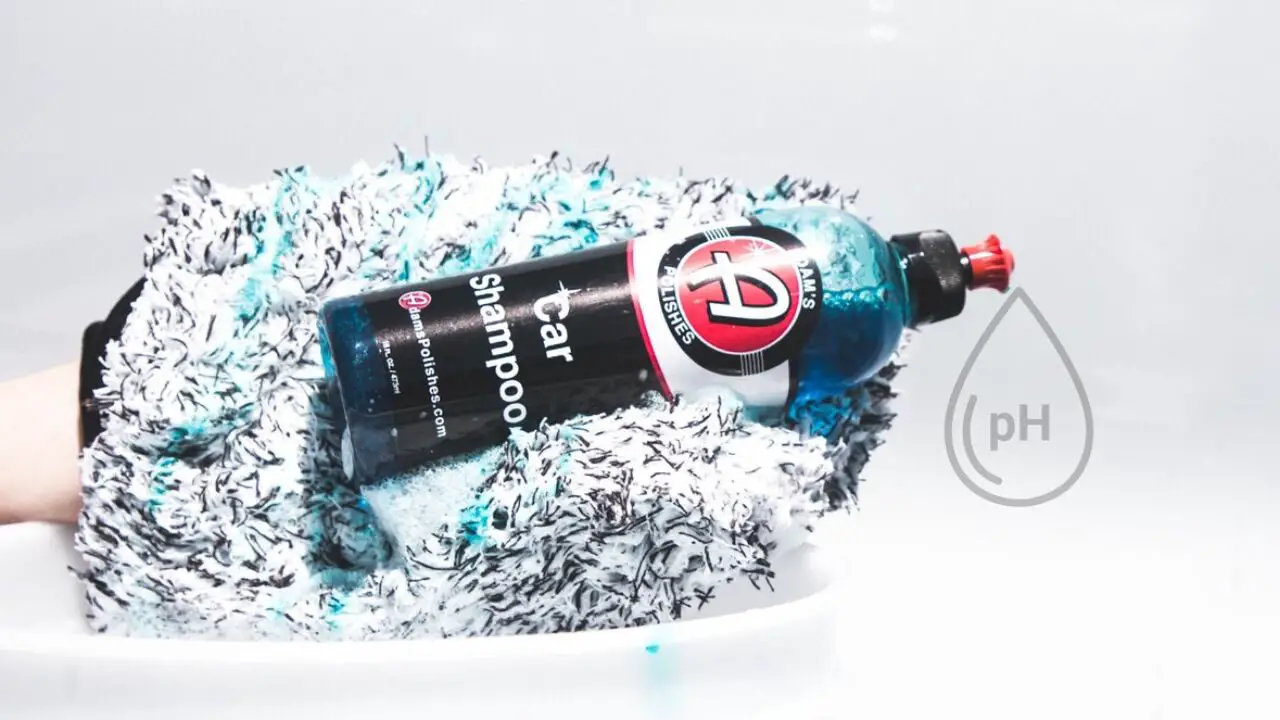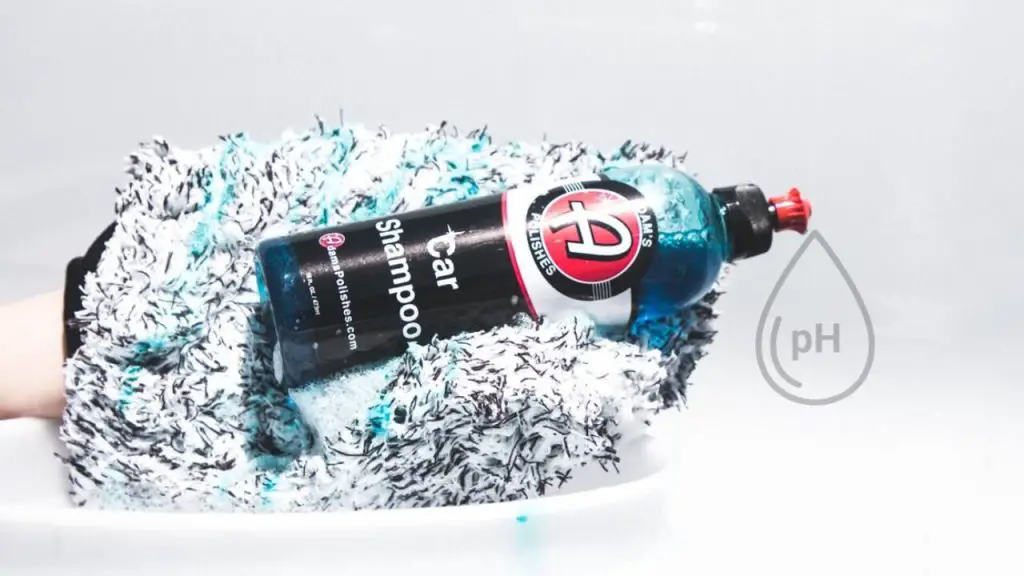 The pH-neutral wash soap is best for weekly maintenance. This car shampoo is specially formulated to lift away all dirt particles and lubricate your car paint. The shampoo reduces the chances of ever-inducing damage and is perfect for all types of car surfaces. The pH-neutral car shampoo is best for snow foam cannons, foam guns, and pressure washers. Moreover, the car detergent is safe for car wax and ceramic coating.
Meiguiar's Mirror Glaze Car Wash Shampoo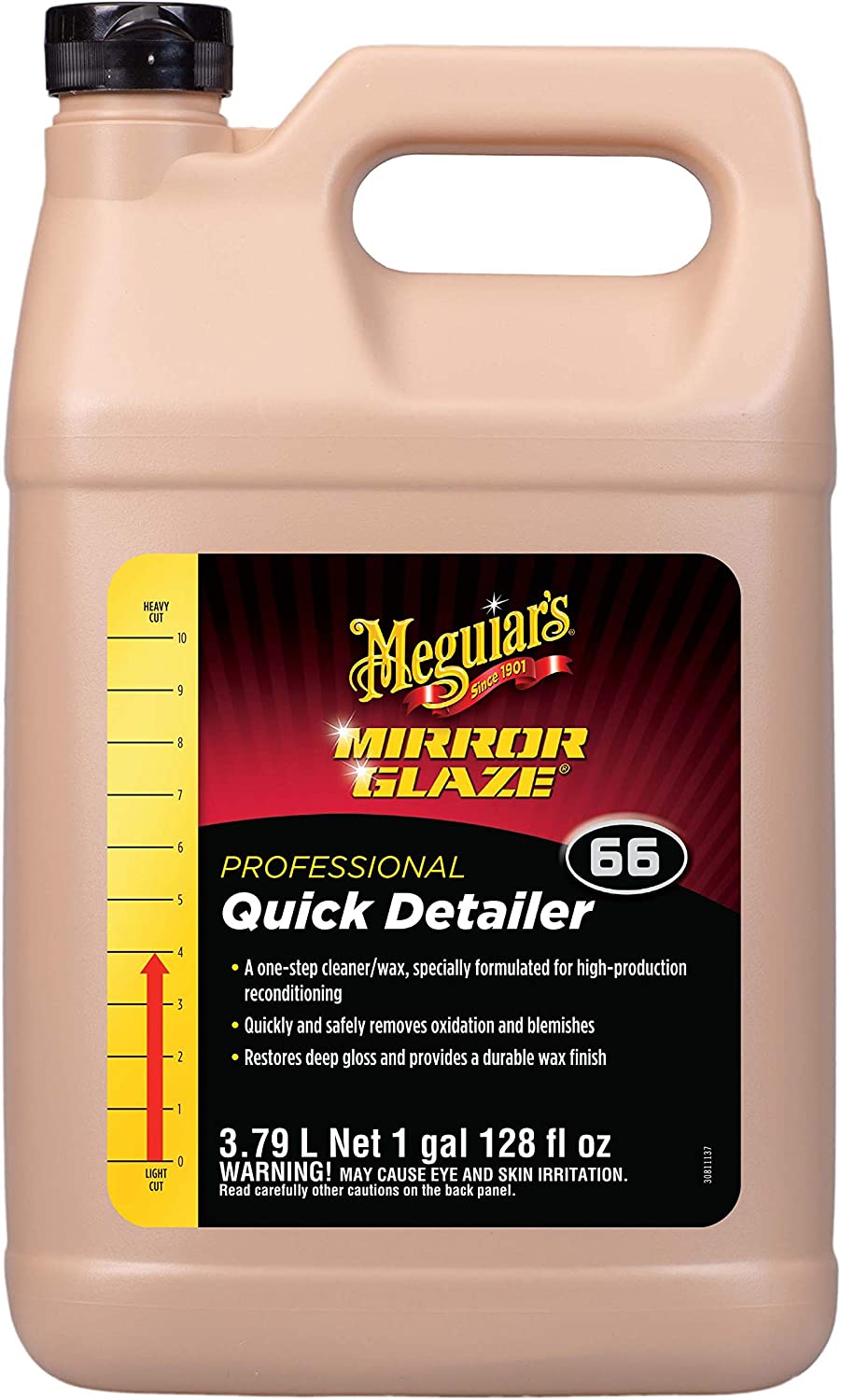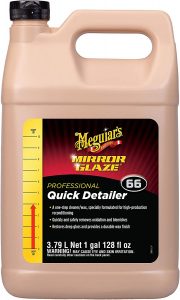 Meiguair car wash shampoo gently cleans car paint and leaves a bright shiny surface. The foaming action is pH balanced and therefore doesn't damage wax. The conditioning agents in the shampoo provide a sparking streak-free surface and don't affect newly detailed car paint. This is a cost-effective and biodegradable product.
Wash mitt
The Wash mitt is made of microfiber and provides a scratchless bright finish.
Chemical Guys Microfiber Wash Mitt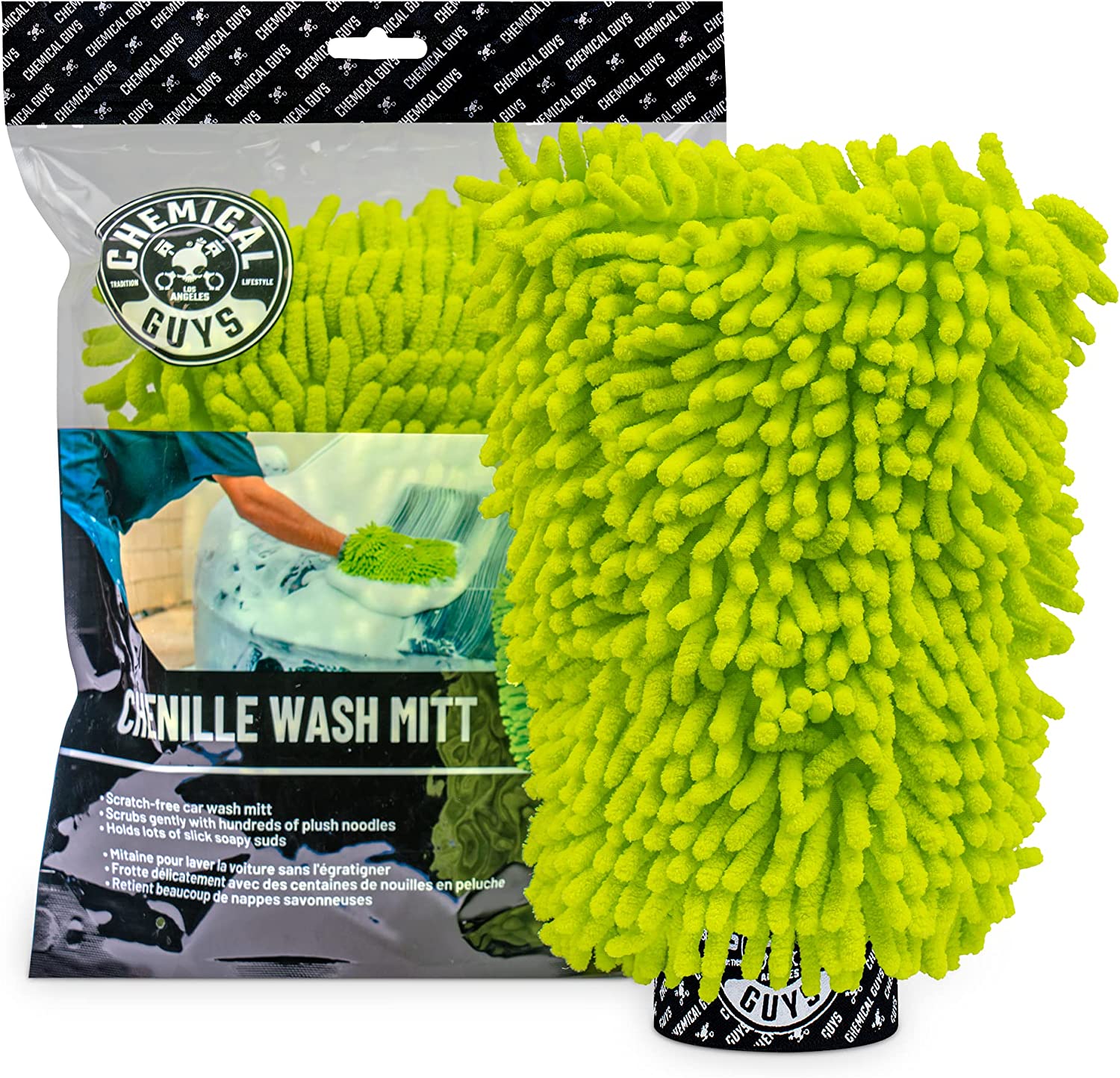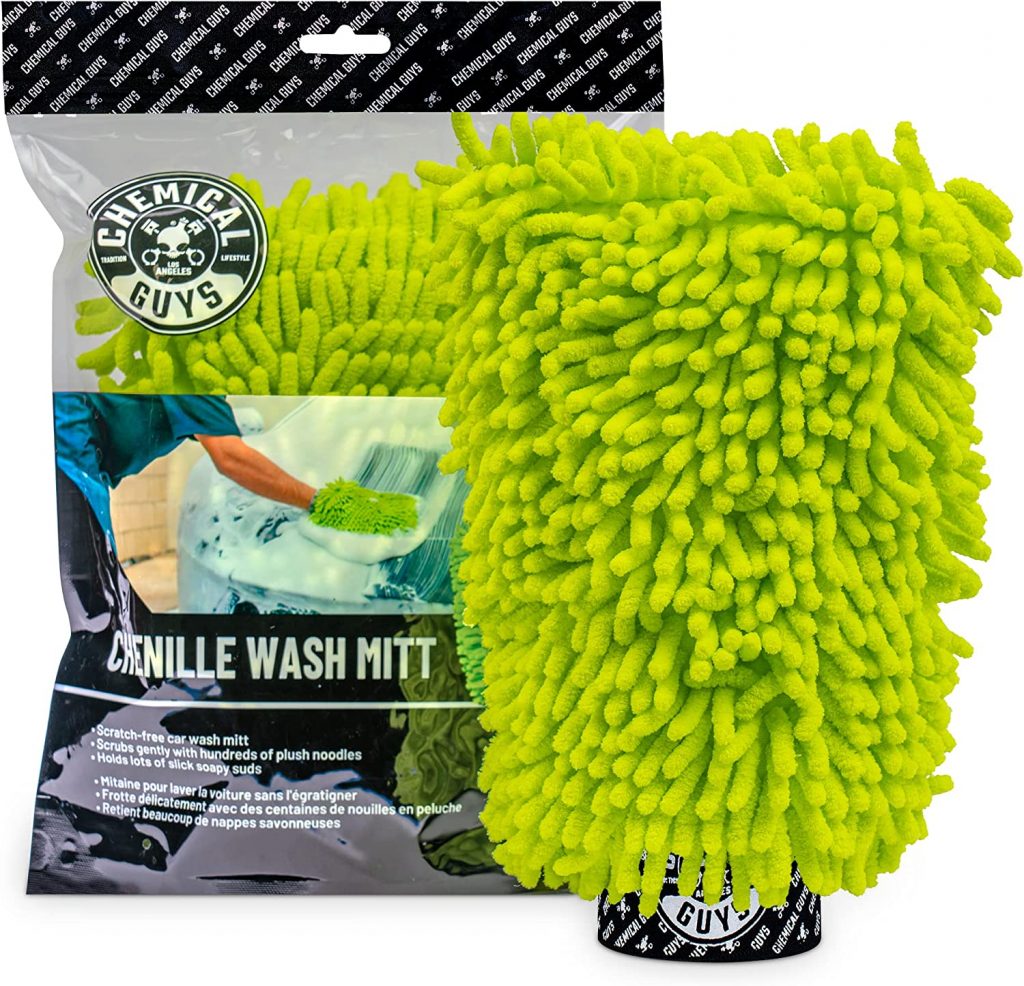 The wash mitt is made with premium microfiber for scratch-free cleaning and extra soft wiping. The wash mitt can hold tons of soapy or clean water for the ultimate scratch-free washing experience. It doesn't damage or scratch any paintwork, plastic material, glass, and polished metal. It traps abrasive dirt and gives a glass-like finish.
Meiguair's Microfiber Wash Mitt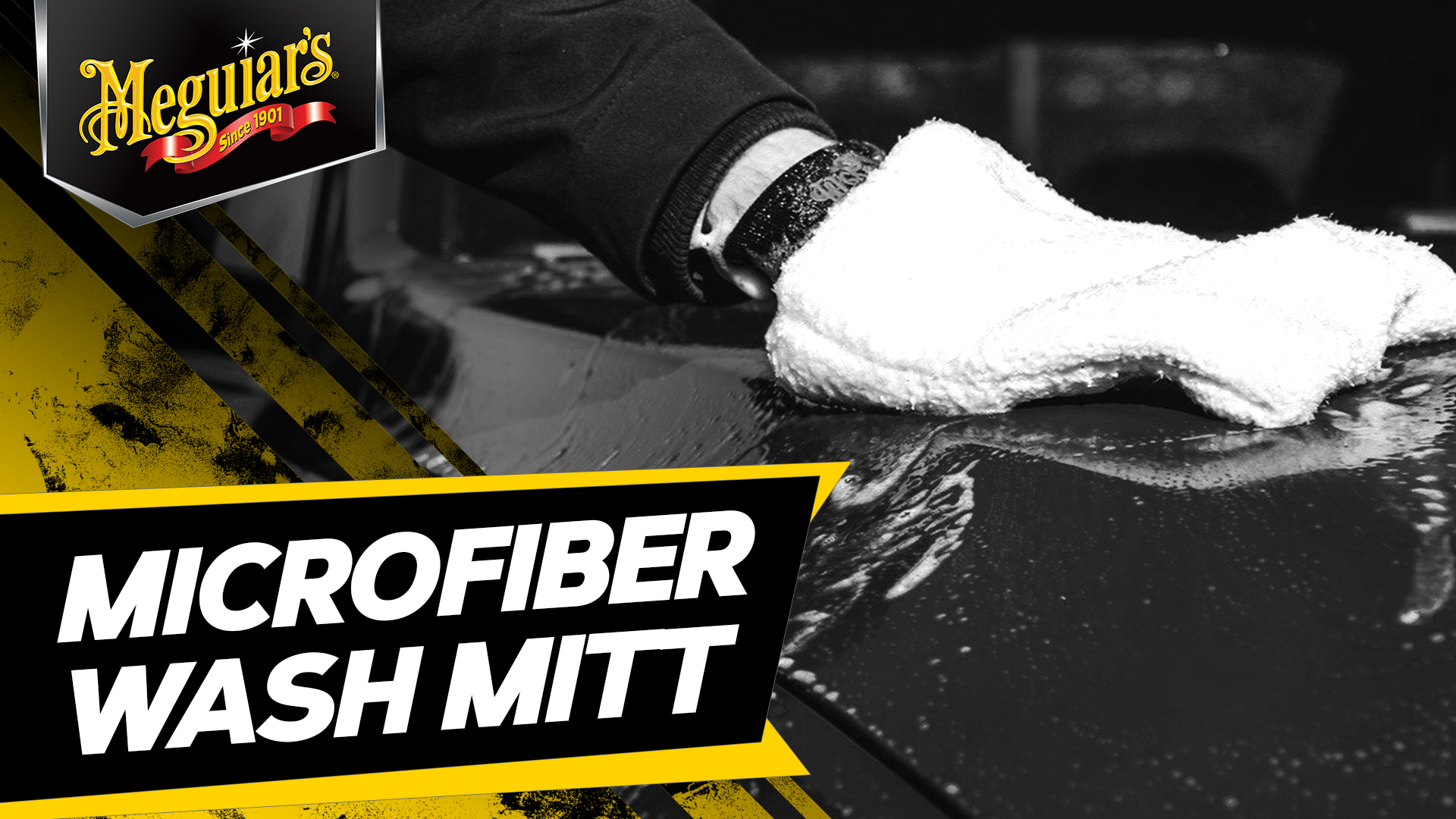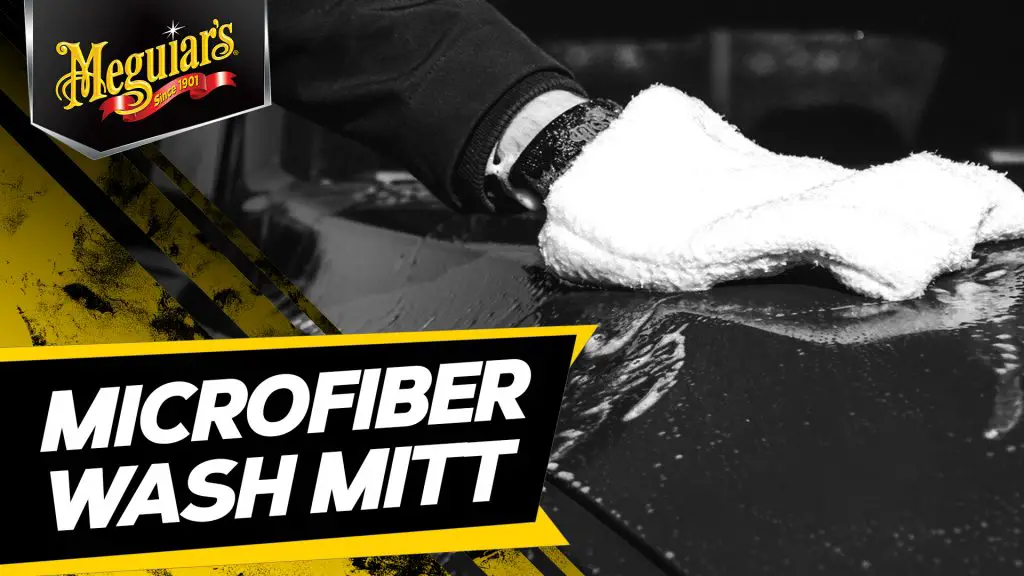 The wash mitt is made of super absorbent microfiber that carries more dirt for safer and faster washing. The wash mitt is machine washable and reusable. It can be used with traditional wash soap and wipe off all the damaging particles.
Bucket and Grit Guards
Use the 'Two Bucket System' to wash your car properly. Fill a bucket with shampoo mixed in water and the other with clean water. And for an extra shiny finish, you must have to use grit guards which is a metal or plastic grill that traps dirt material when washing the mitt rinse in the bucket.
Chemical Guys Grit Guard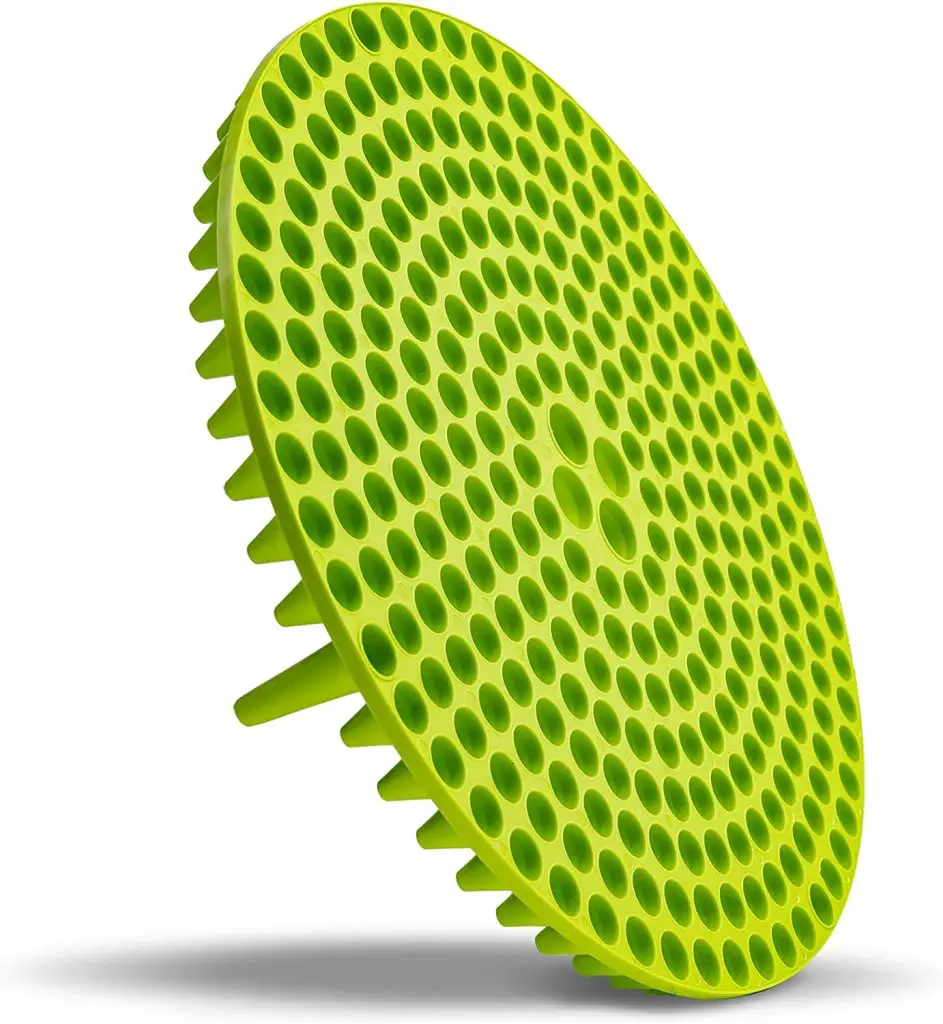 The grit guard efficiently traps the dirt and debris in the bucket and eliminates the chances of swirls or scratches formation. The grit guard can easily fit 12 Inches of a traditional bucket and the dirt aperture diameter is perfect for separating dirt from clear water.
Adam's Car Wash Bucket and Grit Guard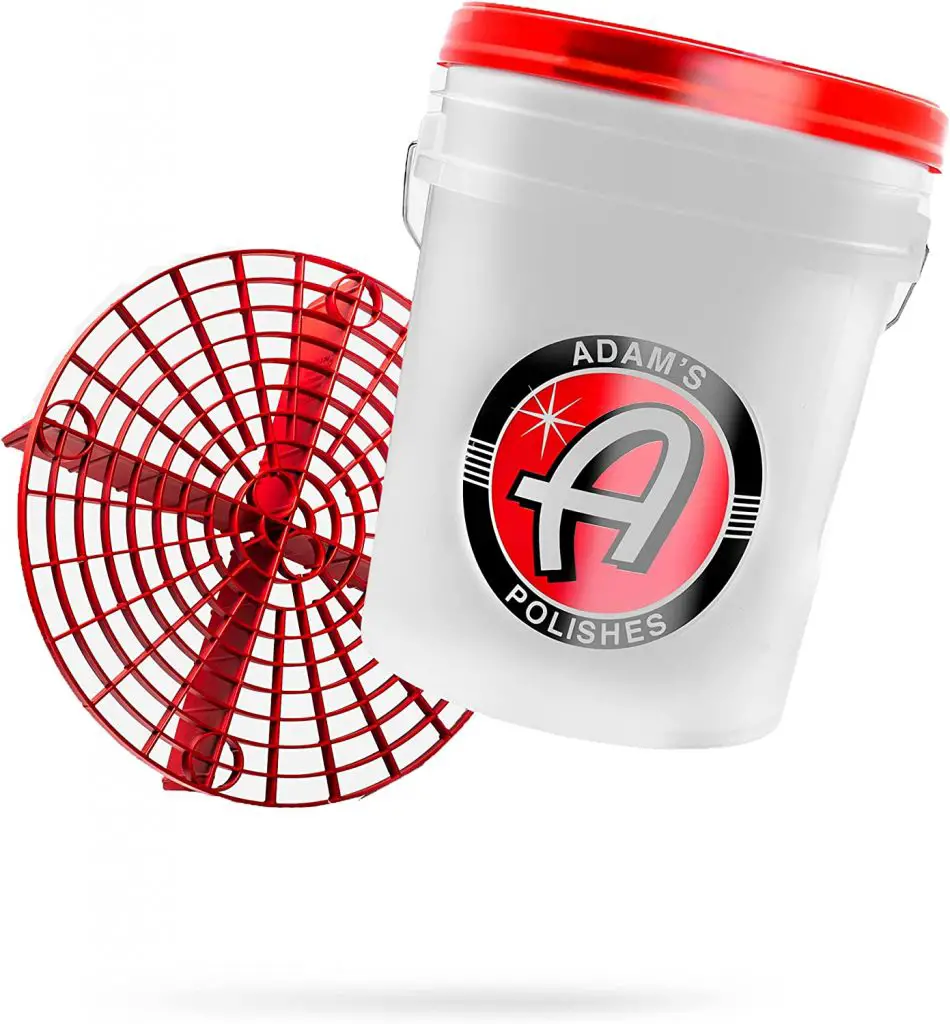 This brand specifically designs buckets and grit guards for a proper wash. There is no issue with fitting grit guards and traps dirt as you dunk wash mitt in the bucket. This provides much more protection against all contaminant particles.
Also Read How to remove Cloudiness from Car Paint
2. Carefully Dry Your Car
After a proper car wash, it's time to dry it thoroughly. Don't dry off your car in sunlight as it can make the car paint cloudy and ever done this job in shade as in the garage. Now dry off the car with a microfibre drying towel or electric car dryer. The microfibre drying towels are good at absorbing water without making swirls and scratches.
Accessories required for dry-off
Microfiber towel
Electric car dryer
3. Use of Clay Bars
The final step of cleaning the car is clay barring. First of all, take a clay bar and make it big enough to hold in your hand for a nice grip. Then spray the clay lubricant on the car surface to avoid any further scratches. Once, you spray the lubricant then gently rub the clay up to down on the surface. Then dry off the lubricant with a microfiber towel. After this, again knead the clay and use it in the same way as discussed above. This process works on all car colors, headlights, taillights, windshields, and on all painted surfaces. This simple step only takes 30 minutes and gives your car a glass-like finish.
Accessories required for clay barring
Microfiber towel
Clay bar and Lubricant
A clay bar is a clay-like product that removes dust particles, metal particles, water drops, brake dust, road grit, and other damaging particles from the car paint. All the paint damaging contaminants stick with the clay bar and protect it from further damage.
Mothers California Gold Clay Bar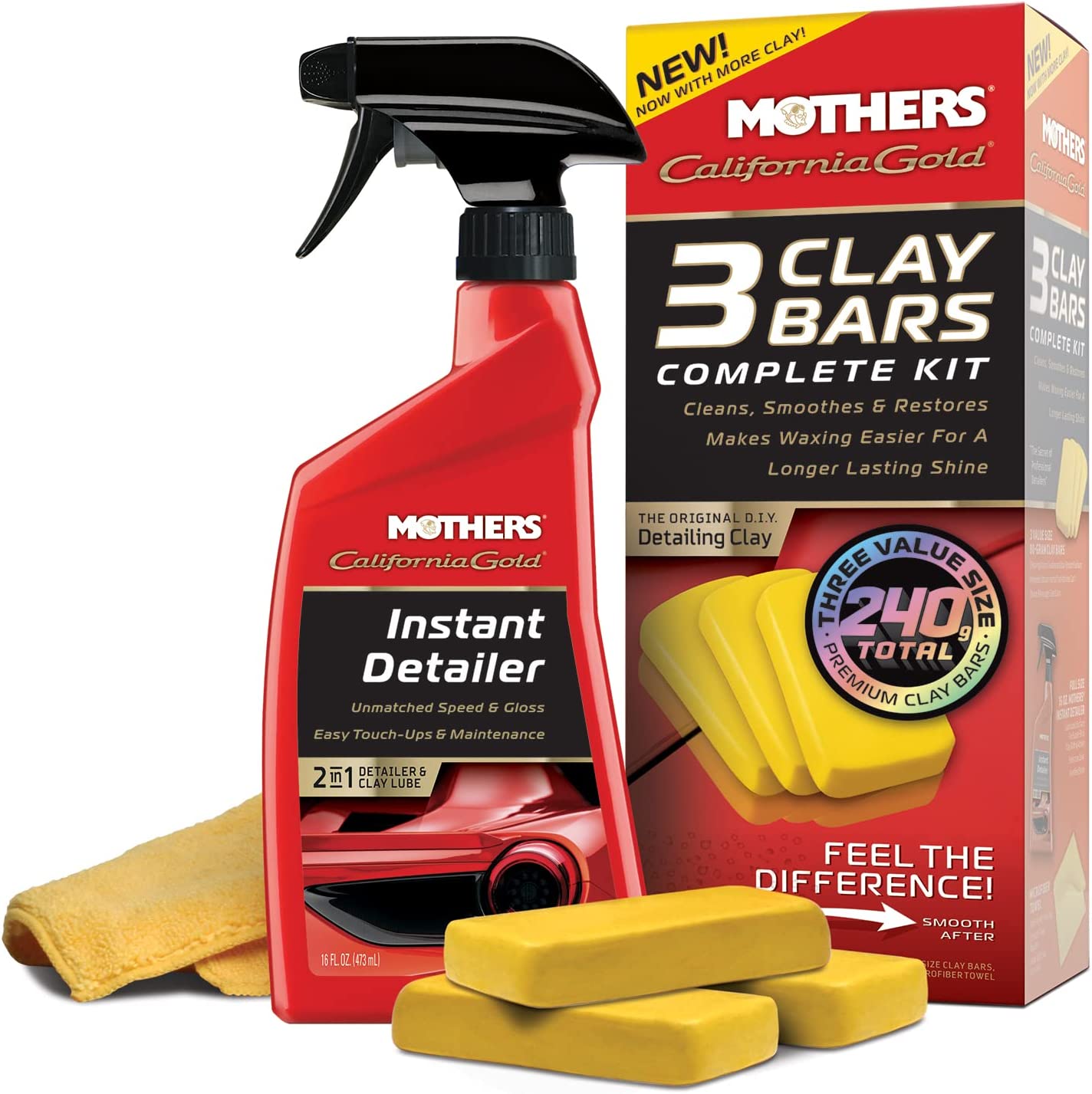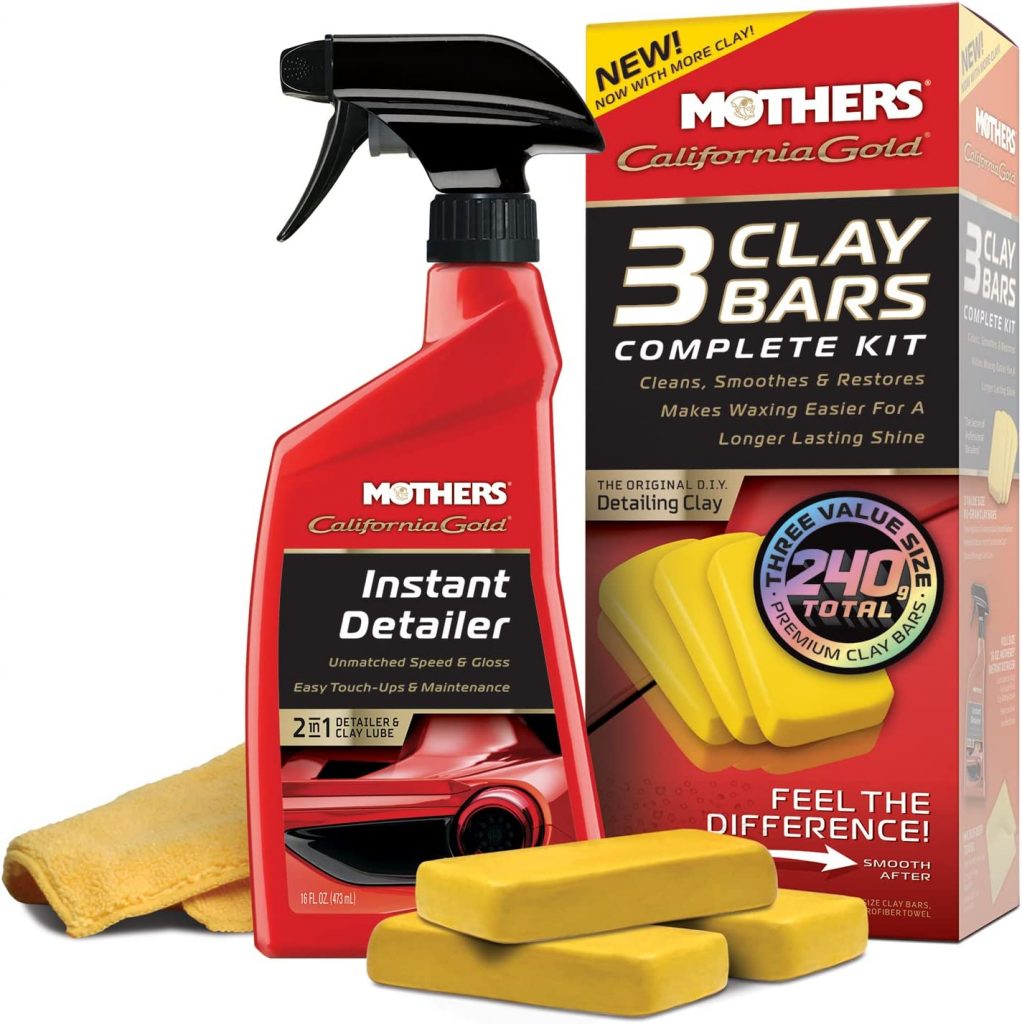 The clay bar removes embedded metal grains, paint overspray, and environmental deposits. This is a reliable clay bar that is perfect for all types of car paints. It has a long-lasting benefit and doesn't stiff like other clay bars.
Chemical Guys Clay Bar and Lubber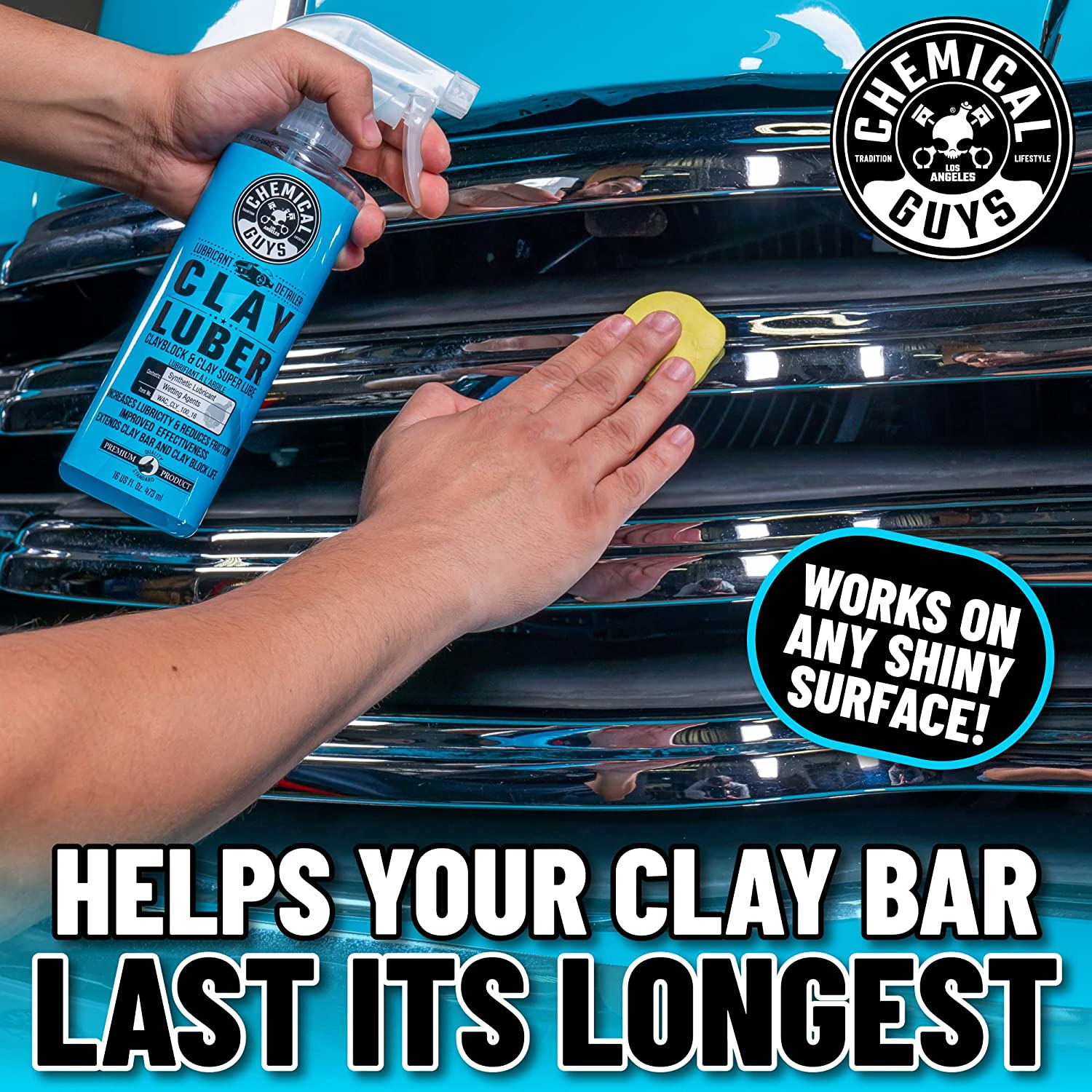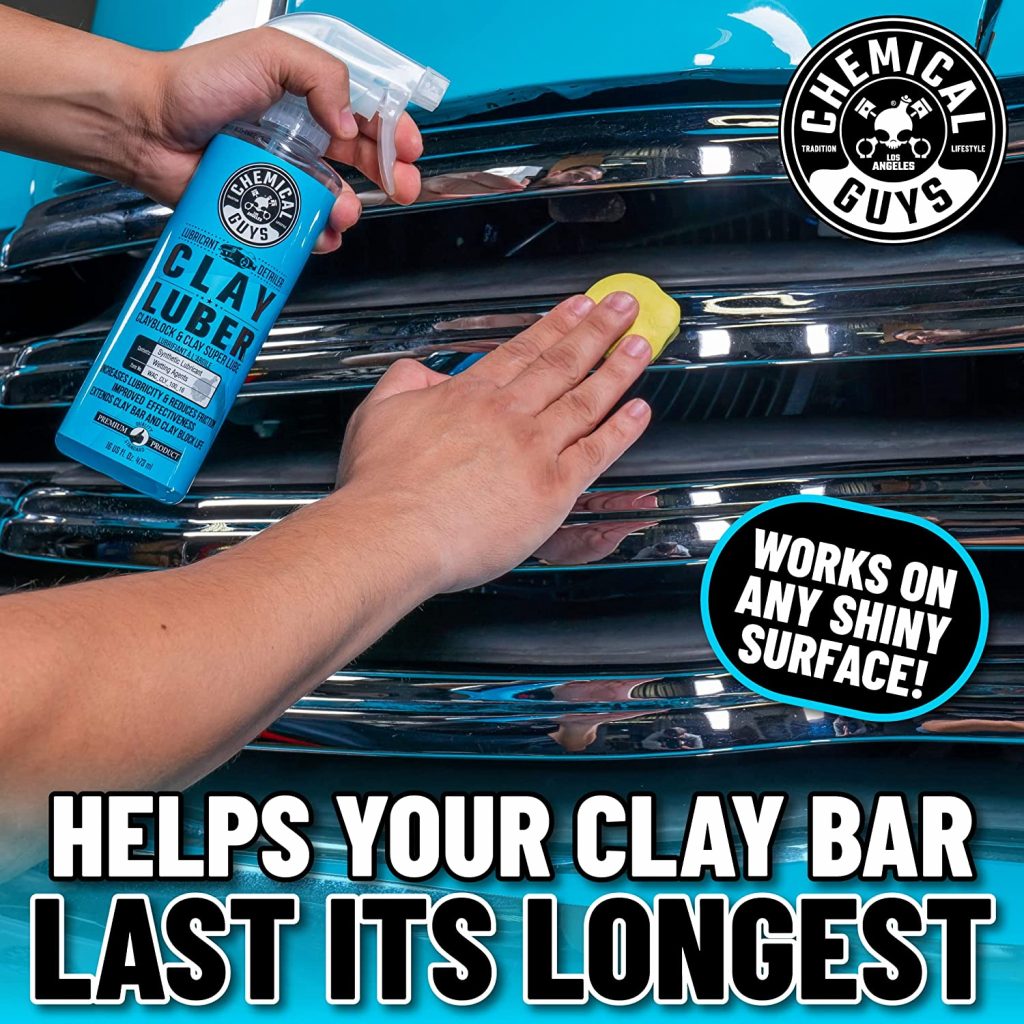 The clay bar is 417mm in diameter and very easy to use with the lubricant. It works on all paintworks, plastic, glass, and metal surfaces. The clay bar removes environmental dust, contaminants, and paints oversprays. The surface becomes smooth and shiny after clay barring.
4. Use of Paint Polish
It is very difficult to maintain or recover the bright, lustrous, and glass-like shine of a black car only by a regular car wash. Polishing is the best way to remove fine or heavy scratches after a proper car wash. It is not only essential for restoring the faded paint but also enhances color gloss. Additionally, this is the most beneficial part of the best car detailing.
Firstly, apply the polishing compound on the polishing pad of the polisher. Then gently apply it to the car surface and rinse off with a microfiber towel. Paint polish removes all the scratches and spider web-like swirls. In the past, it was very difficult to polish a car paint by hand but now it has become easier due to double action polishers. Even if you apply more pressure on the polisher it'll stop spinning and prevent the paint from further damage.
Meguiar's Mirror Glaze Ultra-Cut Compound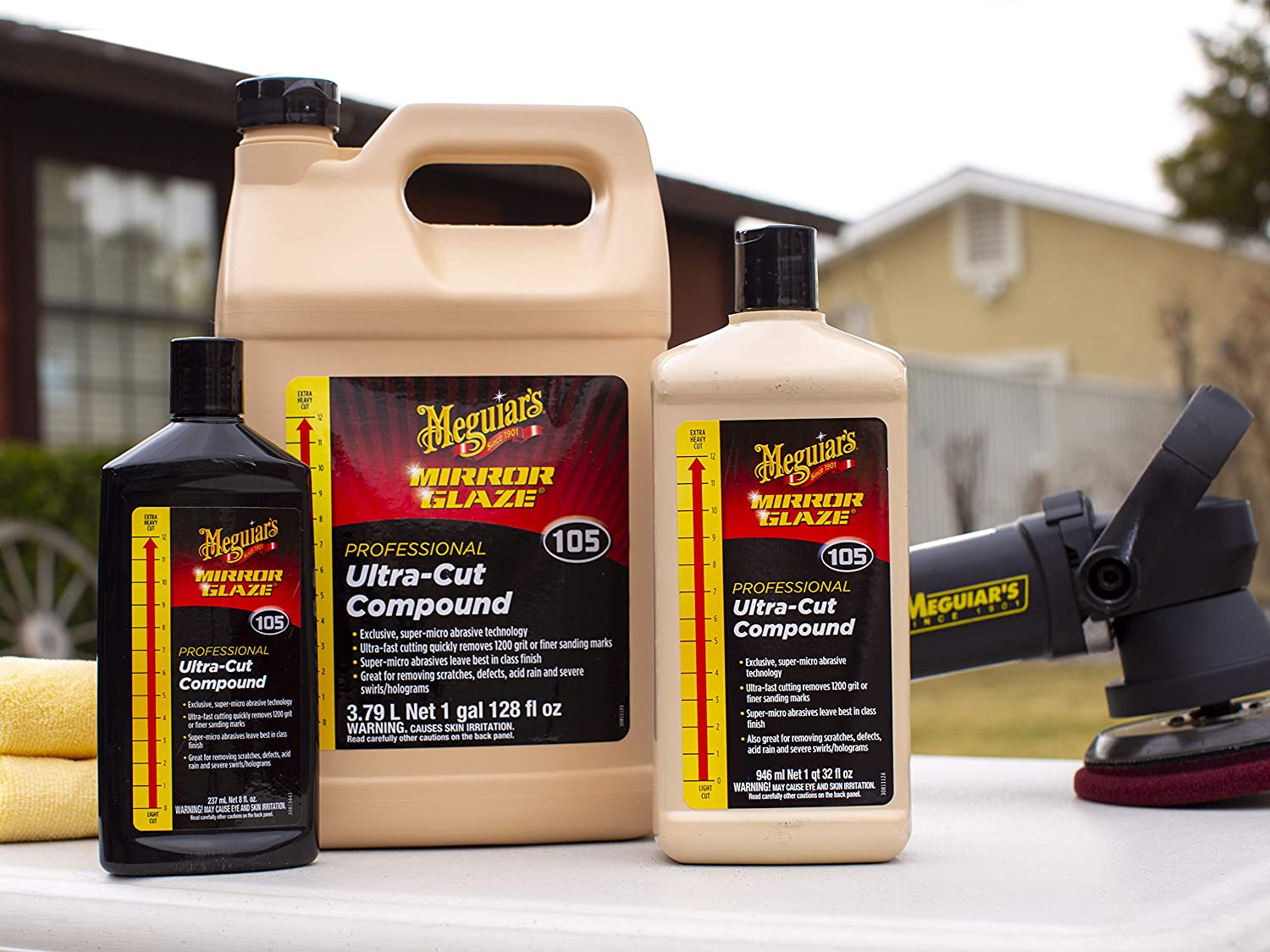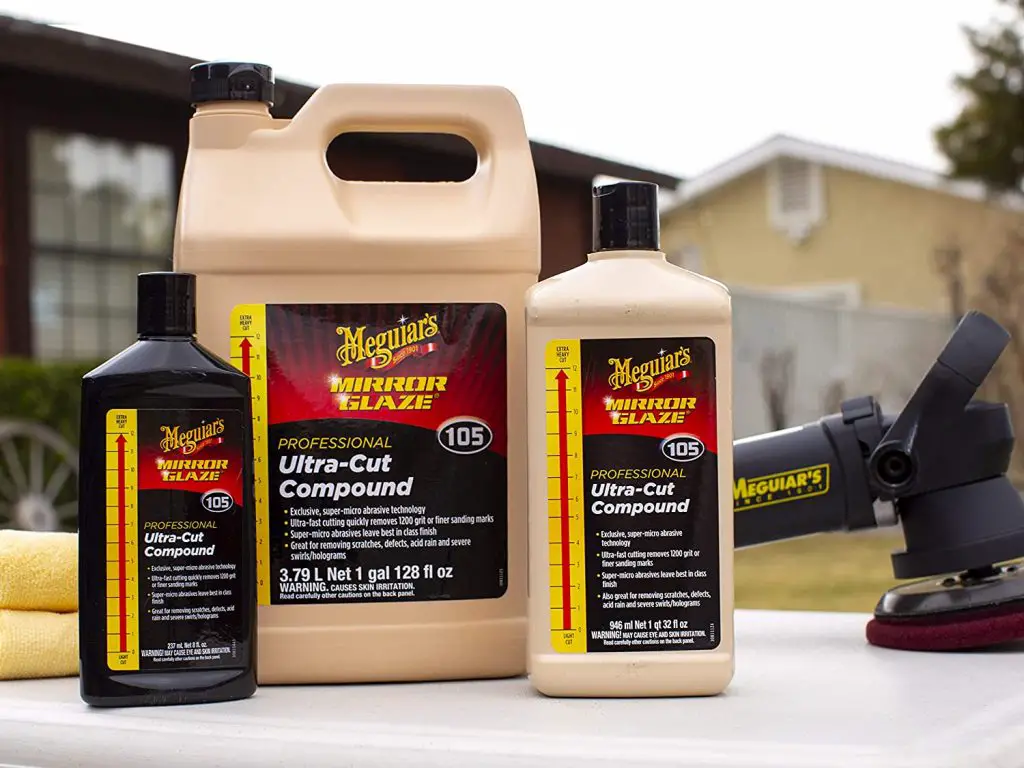 This is a professional-grade pure polish that not only removes scratches, swirls, and cloudiness from car paint but also nourishes it for an extra glossy look. The hand-applied polish is well recommended due to its ability to remove 1200 grit or fine sanding marks. The polish can be applied with a rotary buffer or with a dual-action car polisher.
Chemical Guys Compound Kit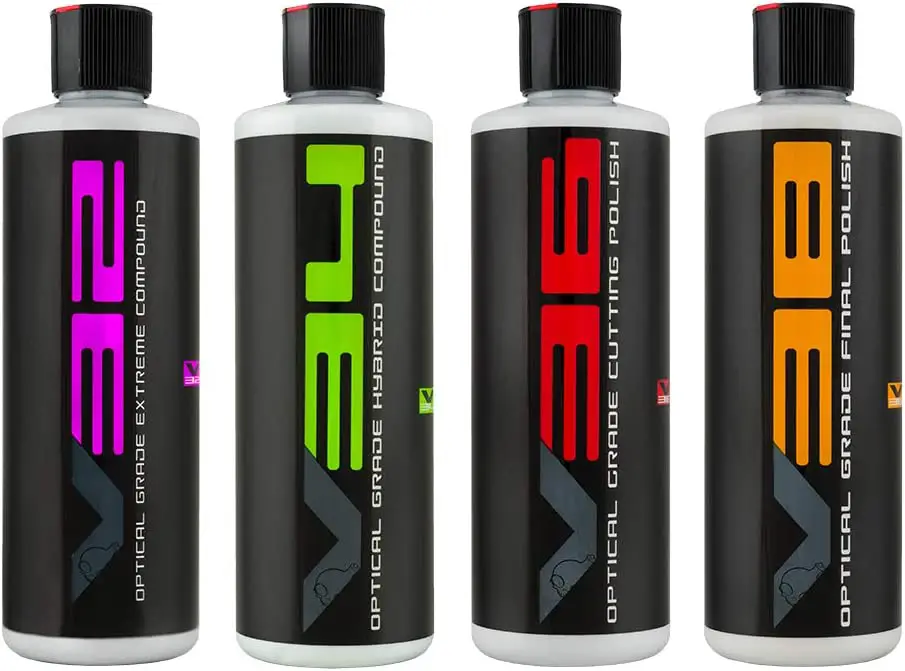 The polish is specially made for ceramic clear coats and plastic materials. It can be used with a dual-action polisher or rotary buffer for enhancing clarity and precision. This will surely make your black car shine like glass.
5. Wax application
Wax is a synthetic coating made up of carnauba wax (derived from the Brazilian palm leaves), beeswax, petroleum distillates, and natural oils. Waxing a car after a regular period protects the car paint from scratches, swirls, corrosive elements, and all other damaging contents. It is a type of paint sealant that increases the shine of the paint. However, most of the waxes work only six weeks and you have to re-wax them. Many people think that waxing the car can damage the clear coat but it doesn't happen if you use a good quality wax.
Before applying, wash your car thoroughly. Purchase a high-quality wax and read the instructions on the package. Apply the wax to the pad and gently rub it on the surface in a circular motion. Then remove it with a soft cloth.
Carnauba wax is the best wax for automobiles because it doesn't damage the paint finish and enhances the paint shine. On the other hand, it doesn't last long and is mostly recommended for show cars.
Meguiar's Carnauba Wax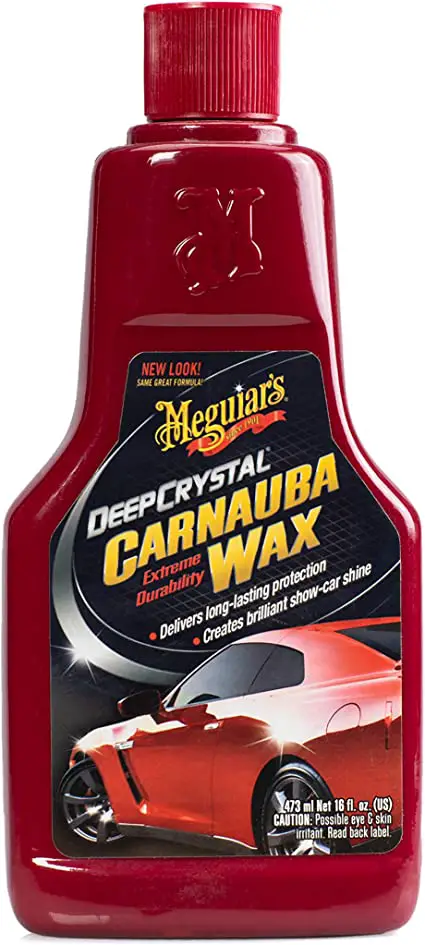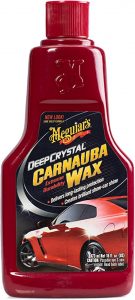 The carnauba wax provides long-lasting, strong, and effective protection to clear coat or a single stage paint. The wax forms an extremely durable barrier that protects car paints from UV radiation and retains the shine of the car paint.  
Turtle Wax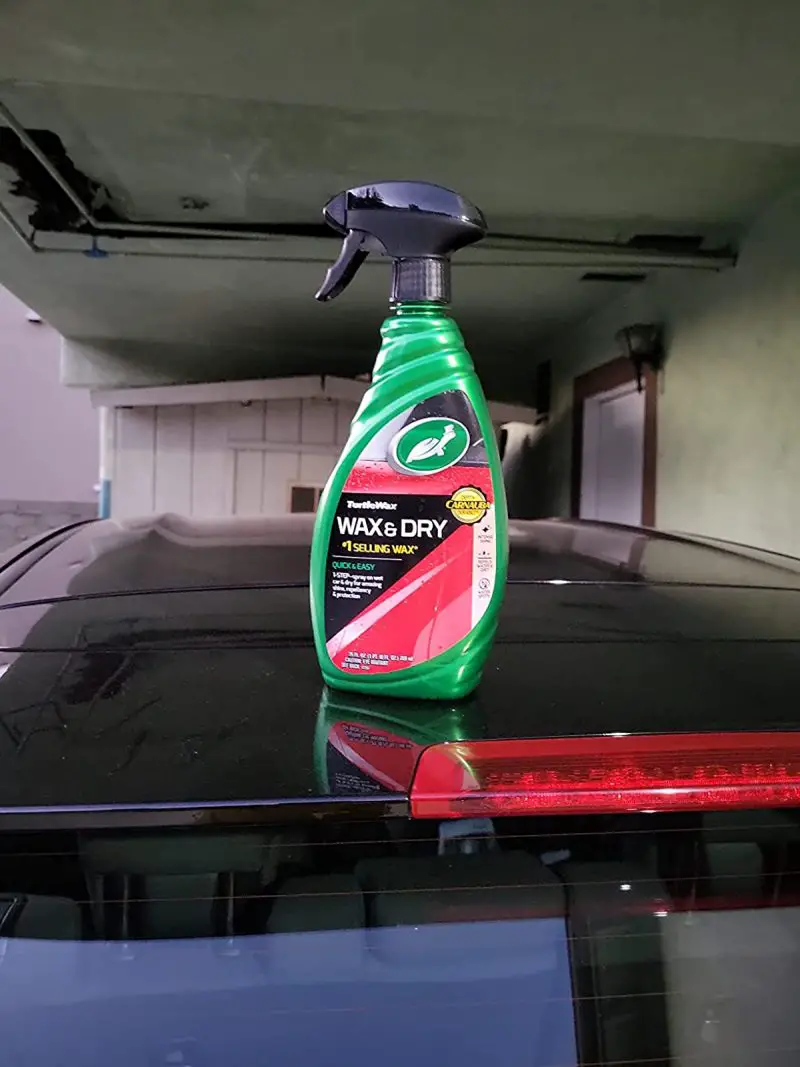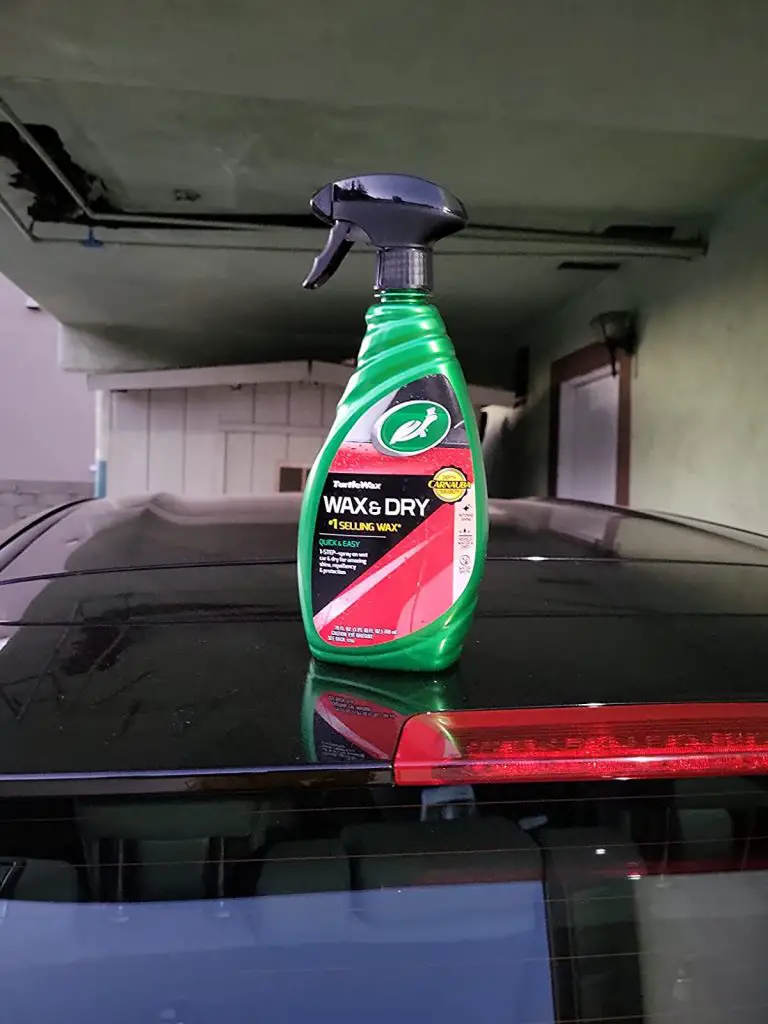 Just after a car wash and rinse it you can spray turtle wax. It is the easiest, quickest way to apply wax without any risk. It is formulated by a blend of carnauba wax and protective polymers for maximum protection and shine. This is a traditional wax and can be applied with a microfiber towel. Additionally, it removes scratches, swirls, and watermarks and gives a glossy look.
Conclusion
The best way to make your black car shine like the glass is to protect it from dust, rain, UV radiation, snow, and all other damaging factors. Fortunately, there are many types of car shampoo, waxes, polishes, clay bars, and sealants for protecting the automobile. These products are specially made to preventing car paint from all types of harmful elements. Keep in mind that don't perform any of these steps direct because it can leave streaks on your car surface.