The right upgrades are required to make your truck stylish and to protect it from dust and debris. Fender flares are one of those upgrades that provide coverage for oversized and heavily offset tires. When you drive a truck off the trail, it becomes difficult to remove debris and dust from the tires and parts that are present right next to the tires. 
Fender flares are similar to mudguards as they protect against dust, debris, stones, mud, and snow on the road. They become more essential when you drive through muddy areas.  
However, choosing a set of fender flares that fit your RAM 1500 year and of the right configuration is not easy. Additionally, the quality of fender flares also matters.
Here we have discussed the features of fender flares of different best brands so you can choose the best fender flares for Ram 1500. 
Additionally, we will provide information about choosing and installing the right fender flares on ram 1500 in this article. So read this article thoroughly to get maximum information about the best fender flares for RAM 1500.
These Are 6 Best Fender Flares For Ram 1500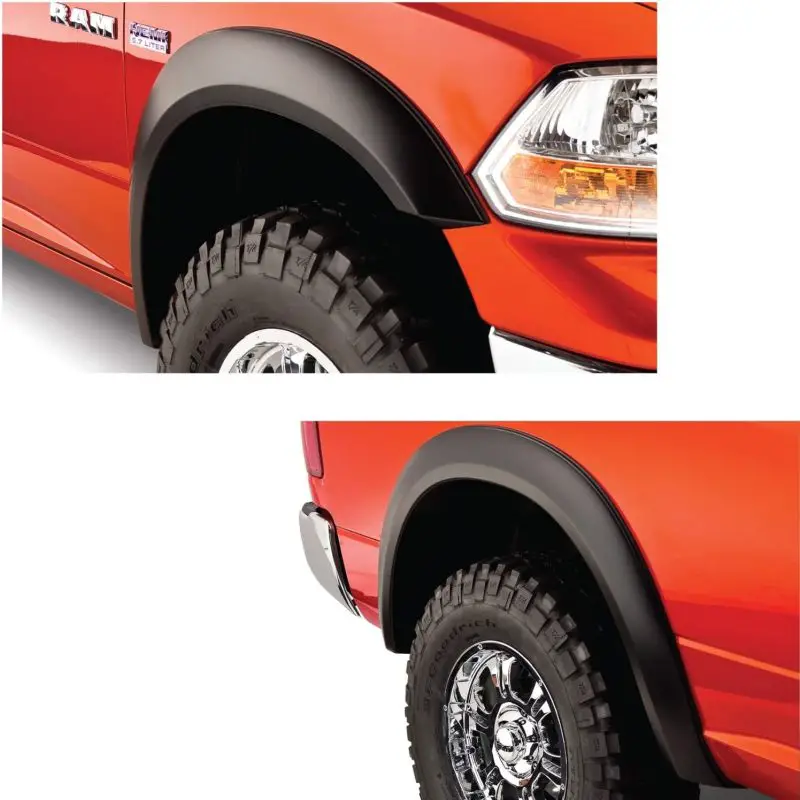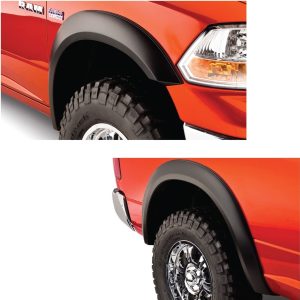 Bushwacker 50914-02 fender flares are the right choice for 2009-2018 ram 1500. The products of Bushwacker are available in a variety of different styles and work well. This product is manufactured in the USA and provides a lifetime warranty. The fender flares for ram 1500 is one of the newest generations. The flares work to block the debris, dust, stones, snow, and mud. The fender flares are made of abs plastic and are easy to install as minor drilling is required.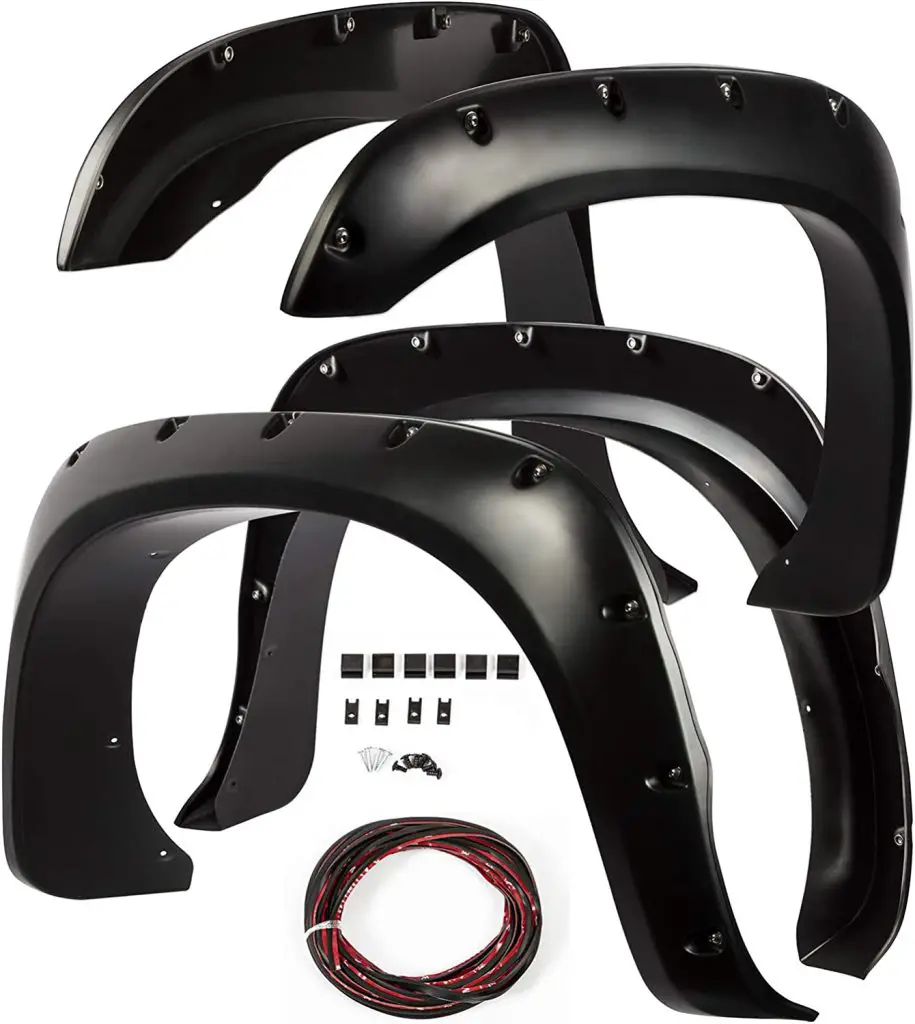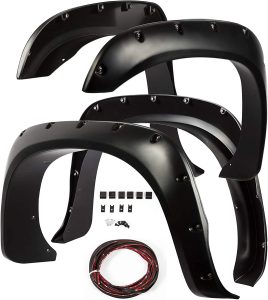 Tyger auto is also one of the best fender flares brands that offer a lot of features and styles. The fender flares have a rugged appearance which is bolstered by recessed stainless steel rivets that enhance their finish. The product is manufactured of polypropylene, which maximizes flexibility and durability. Additionally, this material improves the performance of flares in collision avoidance. 
The flares are very easy to install, and no drilling is required to install them. This brand provides a limited lifetime warranty on warping, cracking, or any other factory defect. Moreover, the material is 100% UV resistant, and the package comes with all necessary hardwares required and manual instructions.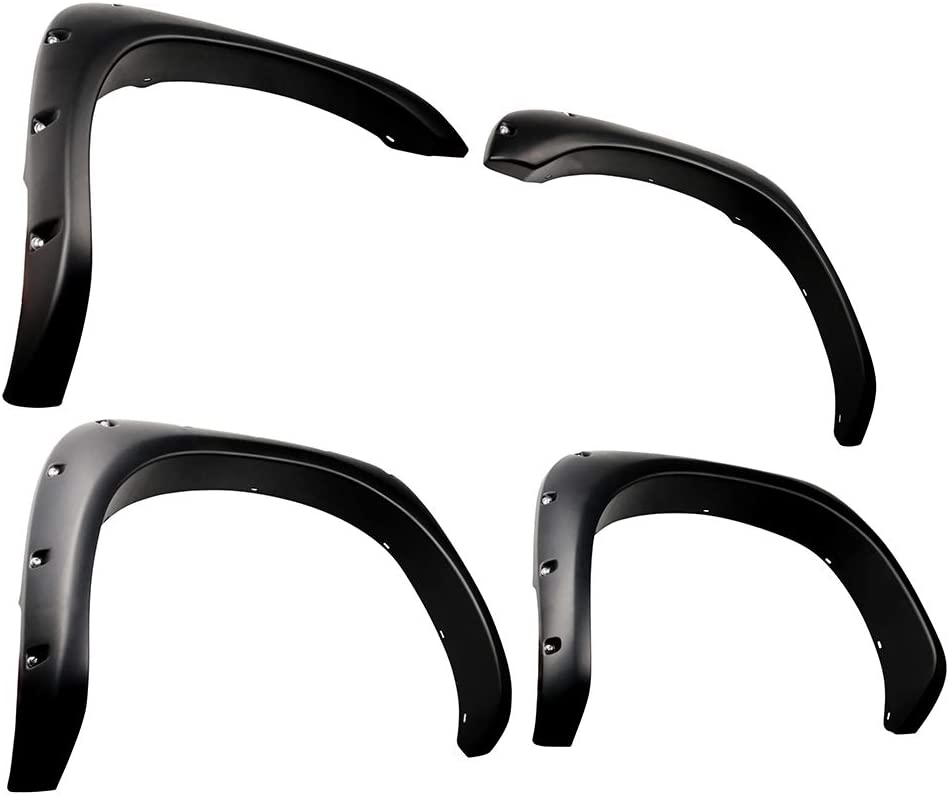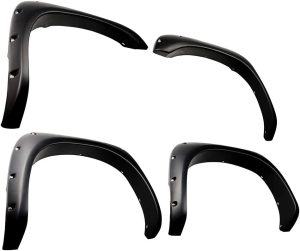 Maxmate's Fender Flares have been designed to provide maximum protection for your vehicle without sacrificing an adaptable fit. Their bolt-on installation ensures quick and easy assembly without any special modifications needed, so you can quickly get on the road without any hesitation.
Moreover, they are also designed for a no-drill application for convenience. These flares are built to last and protect your fenders from damage caused by rocks, salt, and other road debris. They are made of premium ABS plastic with a black matte finish that is corrosion and chip-resistant, so they look great in all weather conditions. 
Additionally, these fender flares are 100% UV protected and designed specifically for the RAM 1500. The heavy-duty construction of these superior-quality flares ensures lasting durability without compromising on weight.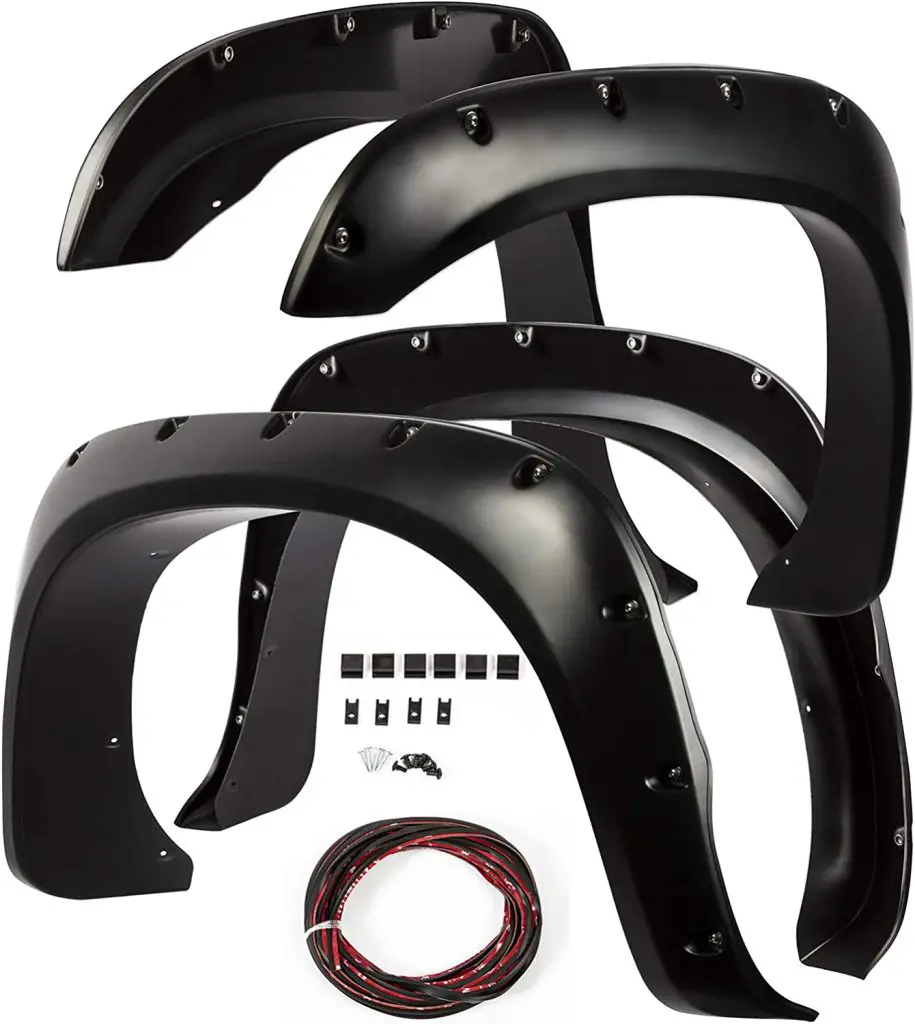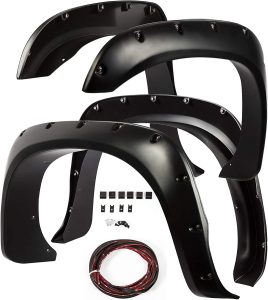 OxGord fender flares are a great choice if you are looking for superior protection with a sleek, modern look. They boast an extremely rugged design that can withstand all kinds of road debris and provide your car with the coverage it needs to stay safe.
Furthermore, Their click-lock installation ensures quick and easy assembly without any special modifications. The flares are also made of premium ABS plastic with a black matte finish that is corrosion and chip-resistant, so they look great in all weather conditions. These flares are designed for the 2002-2008 Dodge Ram 1500, so you can be sure they will fit snugly on your vehicle.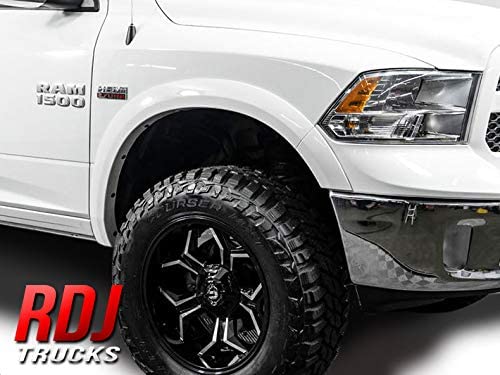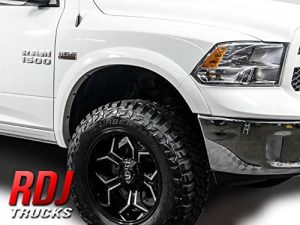 RDJ Trucks HWY-PRO OEM Style Fender Flares are made of impact-resistant ABS composite plastic for superior strength and resistance to environmental damage.
They are also easy to install, with all necessary hardware included, so you don't need any special tools or expertise to get them up and run on your truck. They also feature a no-drill, bolt-on design for quick and easy installation. The edges of the flares are designed to tuck in close to your vehicle, providing a snug fit that won't look bulky or awkward.
These flares are designed specifically for the 2002-2008 Dodge RAM 1500 and will provide maximum protection from rocks, salt, and other road debris.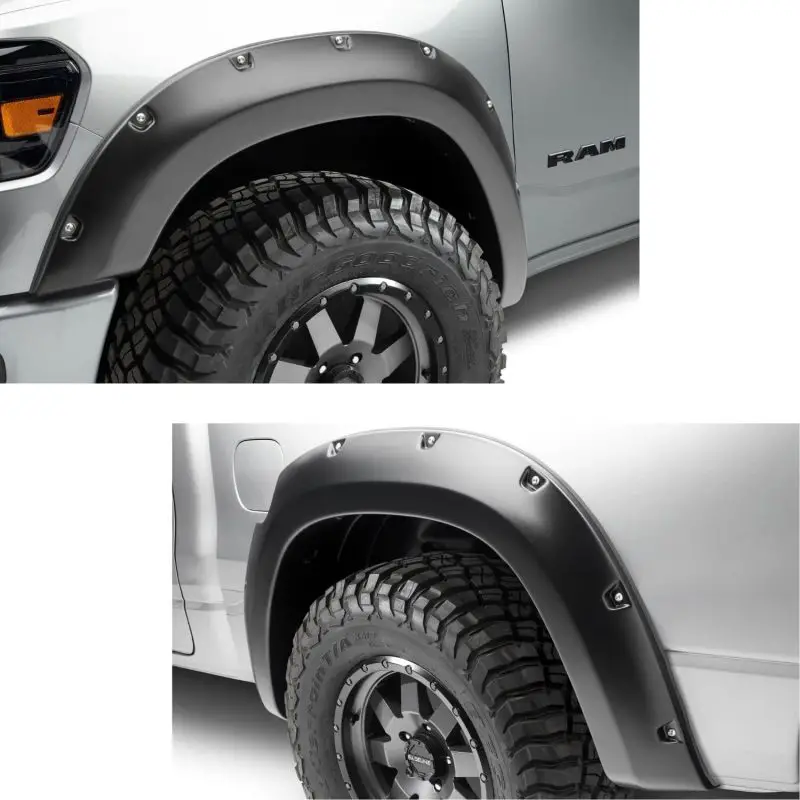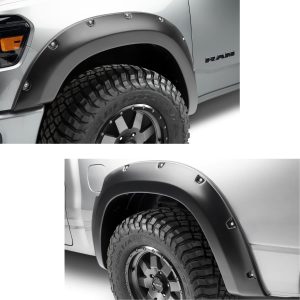 For an instant upgrade to your ride, look no further than Bushwacker 50924-02 Fender Flares! These flares add a stylish and aggressive aesthetic to your vehicle and offer effective protection against debris, mud, and other environmental factors.
Besides, the fender flares come with easy-to-follow installation instructions and are easy to install with some basic tools. With their pocket rivet style, these fender flares offer superior off-road protection while allowing maximum tire coverage during daily driving around town. 
These fender flares are made from hi-impact ABS plastic – giving them superior strength compared to other similar materials. Plus, they feature a smooth matte black finish that makes them look great on vehicles of all shapes and sizes.
Things to consider before buying fender flares
Fender flares are a great way to add some style to your ride, but there are a few important things to consider before making the purchase.
Compatibility
First of all, you want to make sure that the fender flares you choose are going to fit. You will need to measure your wheel wells to know what flare size will fit properly.
Material
Next, decide what type of material you want for your fender flares – typically, these are made of either polypropylene or ABS plastic, both of which have their own advantages and drawbacks.
Budget
Moreover, take into account how much money you are willing to spend on the flares – with such a wide range of prices available, it's important to narrow down what fits best within your budget. Doing a bit of research beforehand can help ensure that your fender flare purchase will be smooth sailing!
Design
Finally, take a look at the various design options available – some are plain, while others have additional features such as pockets or ridges. Make sure to find a set of fender flares that fit your style.
Hardware
Additionally, it's important to make sure that all necessary hardware is included with your purchase. This will vary from product to product, so be sure to double-check before buying.
FAQs
Which is a better installation method for fender flares, adhesive or bolts?
It depends on your preference as well as the type of fenders you're installing. Generally, if you'd like a more permanent installation method, then mounting it with bolts is the way to go. However, adhesive is the way to go if you're looking for a quick and easy install time.
Besides protection, what other reasons would someone want fender flares?
Fender flares can add a unique style to your vehicle and make it stand out from the crowd. They also help to protect your wheel wells from dirt, debris, and even light impacts. Finally, if you're looking for additional clearance off-road or on rocky terrain, then fender flares can provide that as well.
Conclusion
Fender flares for ram 1500 trucks are a great addition to keep your truck looking stylish and sleek. They protect your wheels from anything from rocks flying up from the road or mud splashed from a puddle. Customize your ride and make it unique without sacrificing durability or reliability. With so many options available, you can select the best fender flares that fit your exact preference and needs.