Chevy Silverado 1500 is one of the best-known pickup trucks, it is a good vehicle for family use and off-road driving. This pickup truck can tackle many extreme trails which helps you drive on difficult paths. The interior design of the truck is very comfortable and practical which makes it the best ride to drive with your loved ones. There are smart storage spaces are available in the truck which makes your journey easier.
But when you drive your Silverado on daily basis, it requires maintenance to give its best performance. Certain parts need proper tuning and replacement after some time. Truck shock is one of the most important parts which makes your truck smooth and comfortable during driving. In this article, I am going to show you some best shocks for Silverado 1500 2wd. Chevrolet Silverado and GMC Sierra are very identical, most of their parts are the same. Note these shocks are also used for GMC Sierra, but always check the vehicle model before buying shocks.
List of best shocks for silverado 1500 2wd
Monroe 58654 Monroe Load Adjust Shock Absorber


Monroe 58654 is the best choice for occasionally hauling and towing due to the heavy gauge and load. When your pickup truck is fully loaded the calibrated coil spring reduces the sage up to 1200 pounds which provides a comfortable and smoother ride. These shocks fit perfectly on the Chevy Silverado 1500 and GMC Sierra.These shocks are strong enough to remain intact on extreme roads. These are designed to reduce friction between the pressure tube and piston which increases their performance on bumpy roads.
The nitrocarbon rod makes these shocks more durable and ensures long life. The full-displaced valving provides necessary adjustments for extra handling and comfort even on bumpy roads. The O-ring shape help in tightening the seal when external pressure is applied and also protects the valve from dirt and corrosion elements like water and chemicals etc. Moreover, these shocks maintain tire-to-road contact and modify it to handle extreme temperatures.
Detroit Axle – Front Struts Rear Shock Absorbers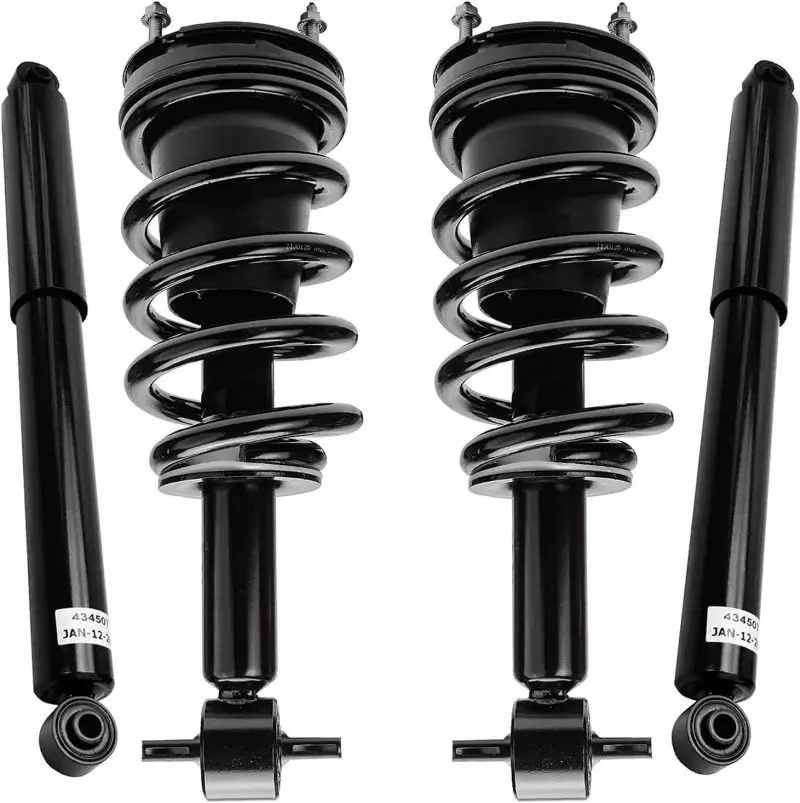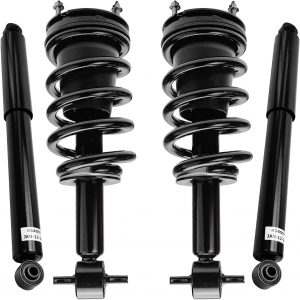 This is a set of complete 4 shocks for GMC Sierra and Chevy Silverado 1500, 2007 to 2013 models. This is the one of best brands that manufacture shocks for passenger cars, SUVs, and pickup trucks. These shocks can bear heavy loads and pressure on extreme roads. These shocks are suitable for non-electronic suspension vehicles. Their ability to absorb shocks on bumpy roads is so good which makes them the best shocks for Silverado. The manufacturer gives 10 years warranty on this product on amazon.
Rancho Quicklift Leveling Struts Pair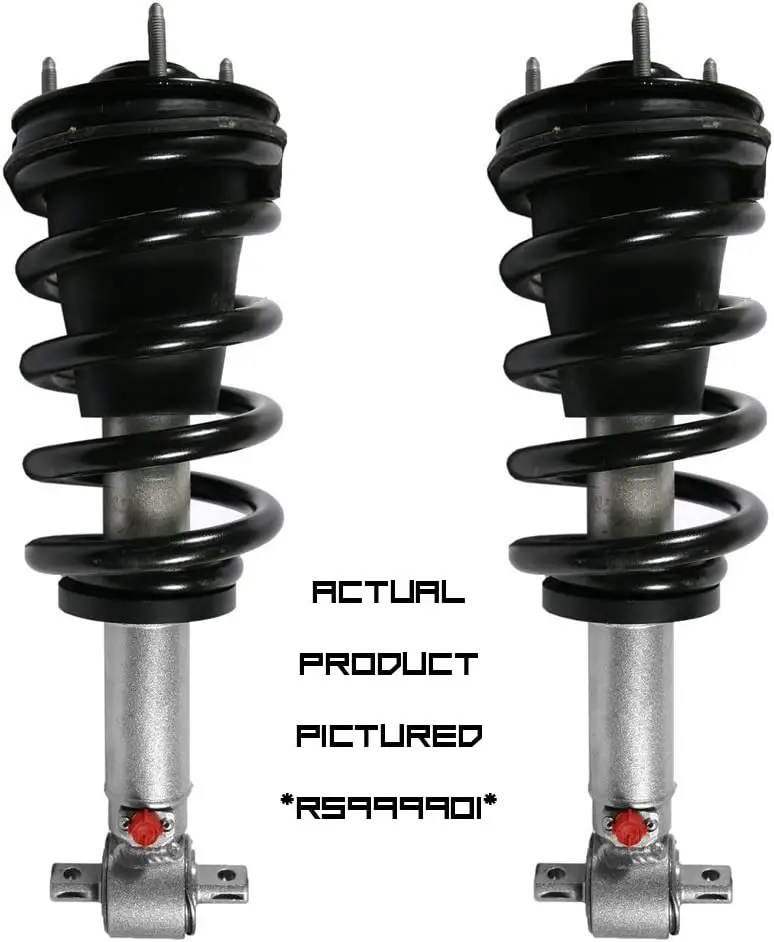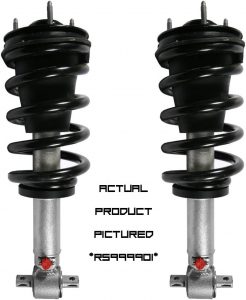 This brand is also manufacturing the best suspension for Silverado 1500. These shocks can be used for both 2wd and 4wd models. These shocks fit perfectly in Silverado 1500 2wd and are very easy to install. Rancho's limited lifetime warranty protects these shocks from defects and premature failure. The front pair of sturts can rise from 0 to 2 inches and is only usable for front sturt models.
The front shocks have 9 different settings of compression and damping, level 1 is the softest setting and level 9 is a firm setting. So these shocks are best for those who change their suspension setting according to road and weather.
Also Read: Best Shocks for GMC Sierra 1500 4×4
Bilstein 24-186940 Shock Absorber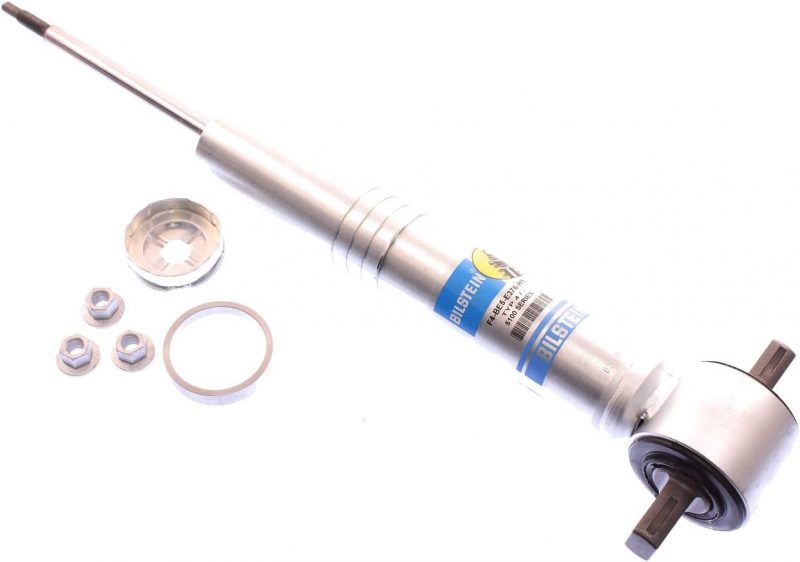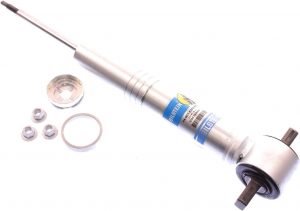 These shock absorbers are height adjustable and level out your pickup truck. Not easy to install and may require some professional help depending on your truck's condition. But with proper installation and height adjustment, these will make your ride smoother and more comfortable.
These shocks are suitable for Chevy Silverado 1500 2wd Pickup trucks. These shocks can lift your ride to 6 inches which is very beneficial. Height is a very important factor of a pickup truck, you can see the road clearly and your ride gets less damage on bumpy roads.
Bilstein 5100 Series Shock Absorber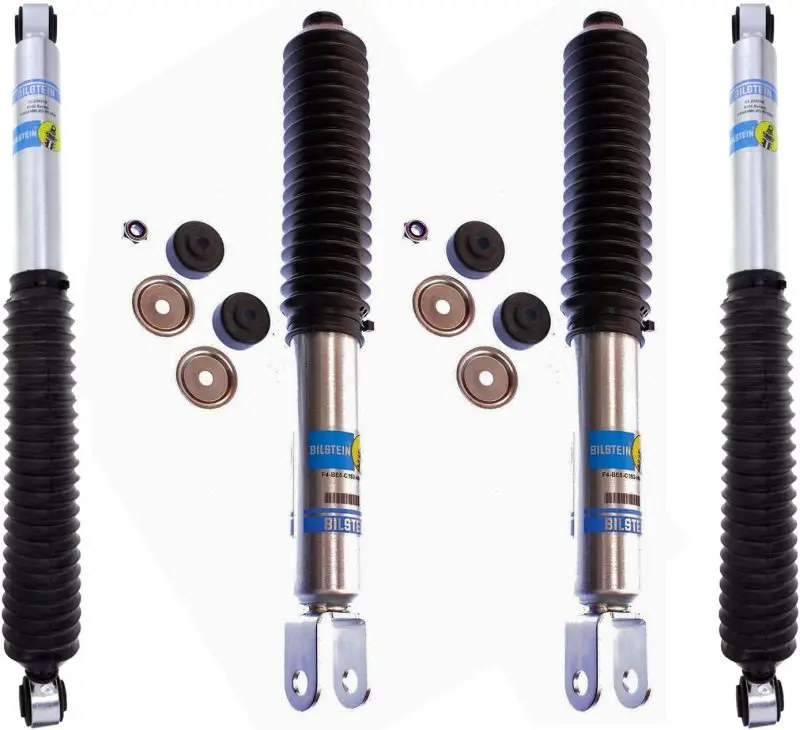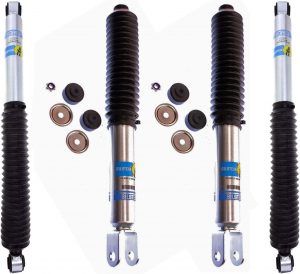 Bilstein brand is one of the best and highly recommended shocks manufacturer in America. Bilstein 5100 shocks are capable of providing maximum handling and minimum shock impact. This shock absorber kit fits in both GMC Sierra and Chevy Silverado 1500. These shocks are best for those who need sharper handling and less body roll. If you use your pickup truck for hauling and towing then these are the best choice for you.
These shocks have extra springs which provide an additional damping effect to shocks and keep vehicle movement smooth. The front shocks are adjustable from 0 to 1.75 inches and the rear shocks can lift to 1 inch. These shocks effectively increase your driving experience by smoothing your ride. Bilstein 5100 shocks are very easy to install, you don't need any further maintenance after installation.
ACDelco 580-435 GM Original Equipment Front Shock Absorber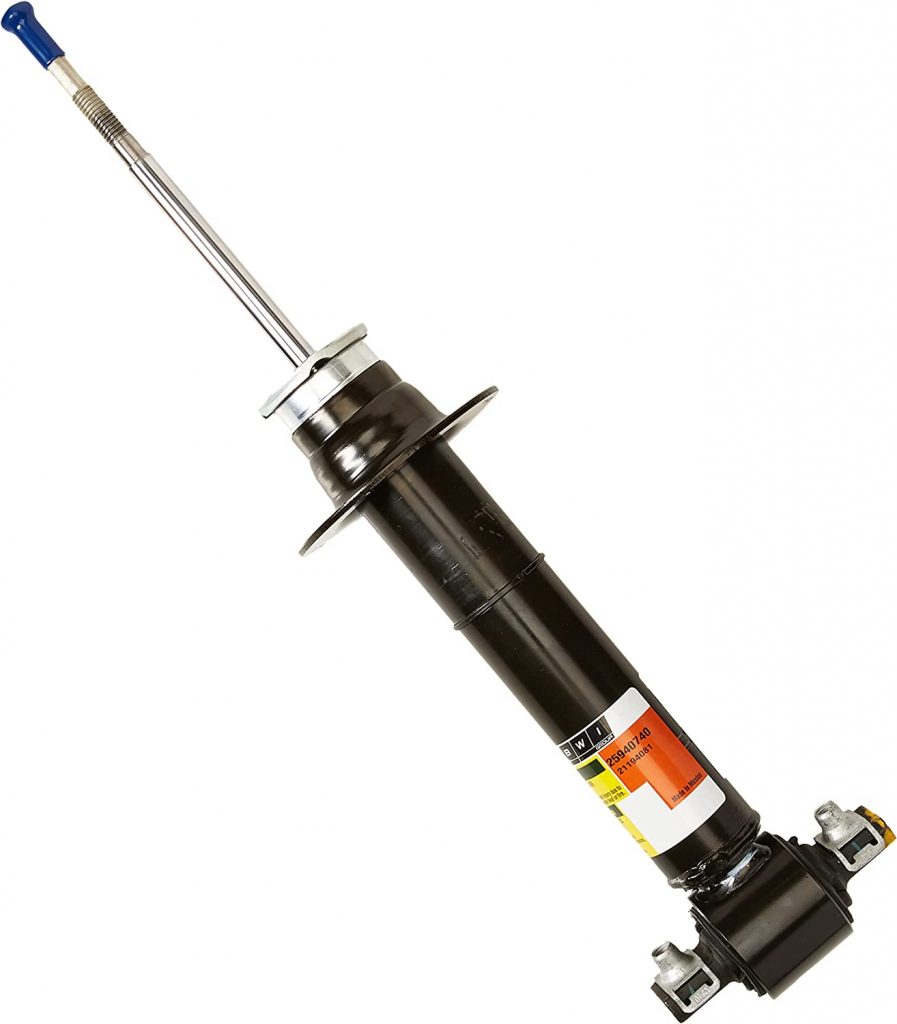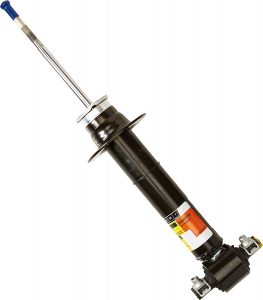 This set of front shocks is suitable for Chevy Silverado models between 2008-2013. These shocks are available at a very responsible price and make your bumpy ride smooth and comfortable. Best for extreme roads and also works very well for hauling and towing purposes. But installation and leveling of these shocks are not easy for some customers as mentioned in Amazon reviews. Perfect fitting for the mentioned model and you can see a huge difference after installation.
Monroe 911533 Reflex Light Truck Shock Absorber

This amazing shock absorber set perfectly fits in Chevy Silverado 1500 and GMC Sierra (Models 2001-2017). These shocks are specially designed for light pickup trucks with a high center of gravity. These shocks contain high-pressure charge that provides quick response for excellent vehicle control. These shocks contain a hydraulic lock-out system that isolates the shock impact during traveling. These shocks contain all-weather fluid which reduces rod friction and produces a smoother reaction.
Rancho RS5000 Shock Absorber


Rancho RS5000 kit includes both front and rear shocks which perfectly fit in GMC Sierra and Chevy Silverado 1500. These shocks include red protective boots and a 16 mm piston road which provides extra stability to your vehicle. And these shocks include additional specific tuning for every vehicle provided by ten-stages velocity sensitive valving.
These shocks are specially designed for vehicles that carry a heavy load and are also used for towing purposes like Chevy Silverado and GMC Sierra. The best thing about these shocks is their ability to provide a systematic response at a such responsible price.
Tips to maintain shocks
Timely detecting shocks and sturt issues can save you from spending money on new shocks. If you solve the issue timely it will give your shocks a long life.

Check your vehicle tire's air pressure regularly, keep tires inflated is very important to save your suspension from damage.

Inspect and test your vehicle suspension system at least once a year or after every 12000 miles to save your suspension from damage.

Always keep in mind that, shocks and struts always be replaced and installed in pairs. If one of the shocks and sturt is damaged, don't replace the damaged one replace the whole pair for a smooth comfortable drive.

Protect your vehicle shock from such elements which cause corrosion like water, salt, and chemical for long -life.

Drive carefully on damaged and bumpy roads to protect your vehicle suspension system from damage. Read More
Will new shocks make my ride smoother?
Many people think that installing new shocks makes their ride smoother and more comfortable. But the truth is installing new shocks not only makes the ride smoother and more comfortable it also enhances vehicle controls and makes brakes like new. Installing new shocks make your journey comfortable and also increases the vehicle's ability to haul and tow.
How do I make my Silverado ride smoother?
If you want to make your Silverado smoother, the option is to install adjustable shocks in your truck. Moreover, the shocks must have air suspension and must have an adjustment to make shocks firm and soft according to your need.
When should I change the shocks of my Silverado?
To make your Silverado smoother, you should change your Silverado shocks after 40000 miles of driving. And should check and test your shocks during every tuning of the vehicle. You can increase your pickup truck shock life by carefully driving on bumpy roads and properly checking for any kind of problem after every drive.
Conclusion
So before buying shocks for your Silverado, you should know what you are looking for and what makes your ride more smoother and comfortable. To check this, please look for product reviews on the Amazon product page. Reviews help you to know about what you are buying and whether is it suitable for your ride or not. Different types of shocks are available in the market.
Monotube shocks

Twin Tube Shocks

Gas-filled monotube shocks.
I recommend you Monroe 58654 Monroe Load Adjust Shock Absorber according to my research and amazon reviews these are the best shocks for Silverado 1500.