Shock absorbers are the basic component of the suspension system which control recoil and impact movement of your vehicle s springs and suspension. They absorb some of the jolts and smoothen your ride even on the rough or damaged road. Good quality shocks control excess spring motion and stabilize the movement of the vehicle. Moreover, they also protect the vehicle from possible damage and keep the vehicle's tires in contact with the road.
Choosing the best shocks for GMC Sierra 1500 4×4 is a difficult task. You have to take into account the specifications of the shock absorbers. This article will surely help you to select the best performing and reliable shocks. 
These Are 7 Best Shocks For Gmc Sierra 1500 4×4
1. Bilstein 5100 Series Shock Absorber
2. Monroe 58654 Shock Absorber
3. Bilstein 4600 Series Shock
4. Rough Country Rear Shock Absorber
5. Rancho RS5000 Shock Absorber
6. Wulf Shock Absorber
7. KYB Shock Absorber
1. Bilstein 5100 Series Shock Absorber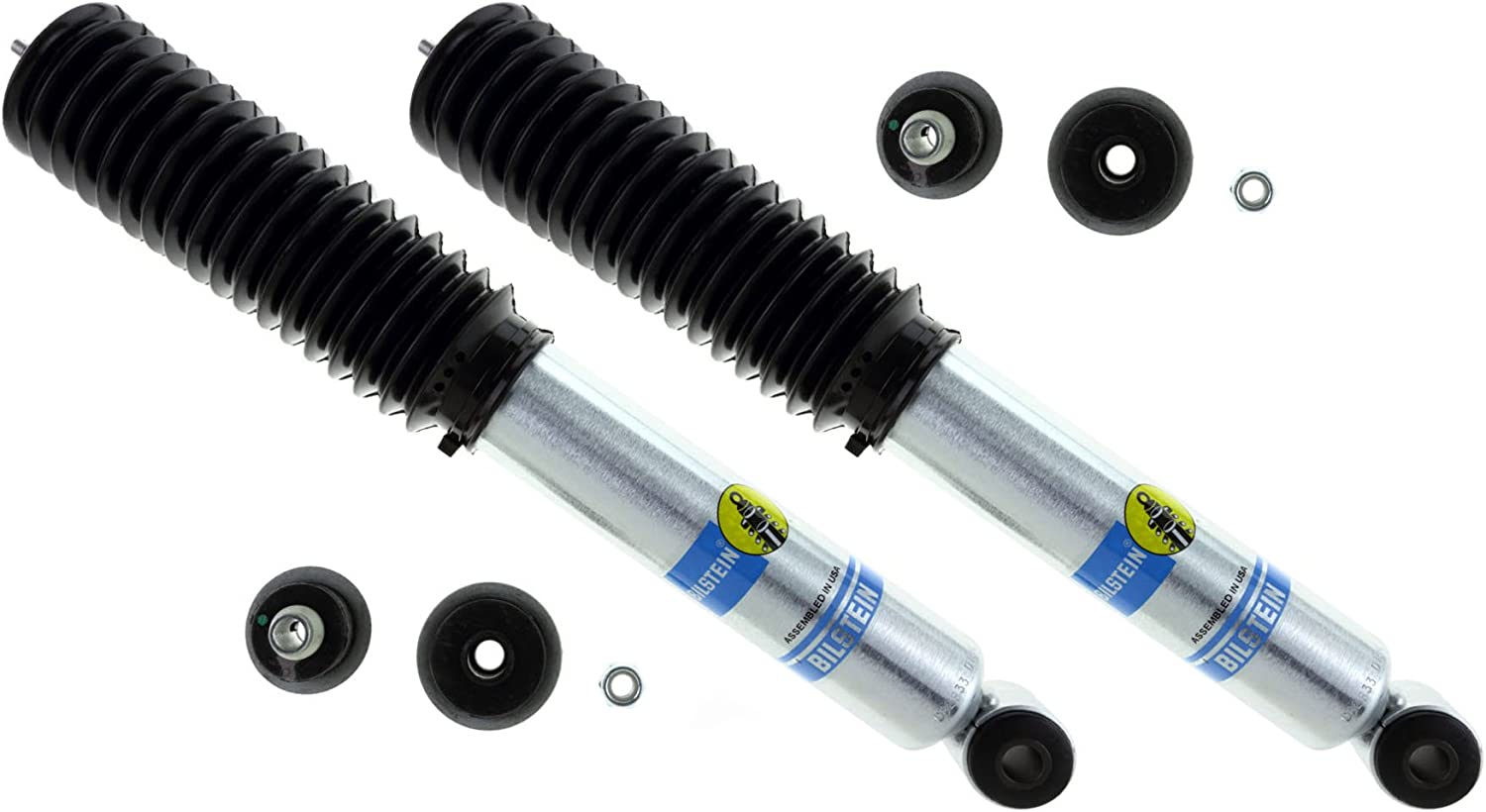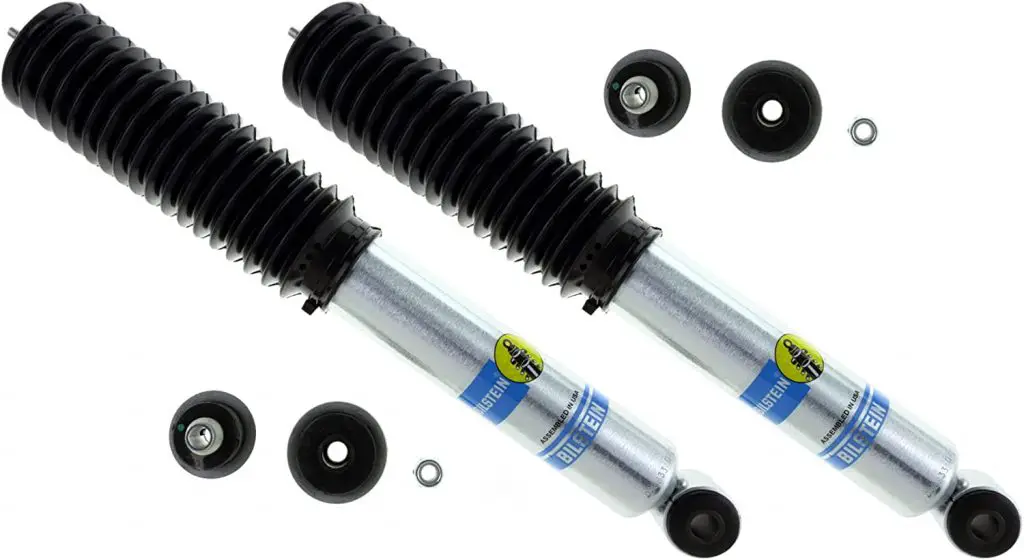 Bilstein is a well-known and highly recommended shock brand in the American market. Bilstein shock absorbers are capable of providing maximum handling and reducing shocks.  This shocks kit not only fits GMC Sierra 1500 but also fits in Chevy Silverado. In addition, this shocks kit is best for those who need sharpener handling and less body roll. These shocks are the best choice if your vehicle has a lot of towing and hauling.  
The extra springs preload provides an additional dampening effect to the shocks and balances the movement of your vehicle. In case of heavy stuff hauling, these shock absorbers will work significantly. Moreover, front shocks are adjustable from 0-1.75 inches while rear shocks can be lifted to 1 inch. They provide stability to your vehicle and enhance its riding quality effectively. Further, you'll be able to handle your GMC Sierra 1500 in a better way and enjoy a smooth ride. This shock kit doesn't require any additional maintenance and is quite easy to install. The shock kit is much more reliable and a great option for your GMC Sierra as compared to others
2. Monroe 58654 Shock Absorber


Monroe shock absorber is an ideal choice for occasionally towing and hauling due to heavy gauge or load. When a vehicle is loaded, the calibrated coil springs reduce the sag upto 1200 pounds and provide a smooth ride. The shocks fit perfectly on GMC Sierra 1500, Chevy Silverado.  Impressively, these shocks are solid enough to remain consistent under extreme conditions. The friction between the pressure tube and the piston is decreased to enhance the responsiveness even on rough or bumpy roads.
The self-lubricating fluid seal reduces the friction against the piston rod and retains the gas. Further, the nitrocarburized rod ensures the long life of shocks. While driving on an irregular road, the full-displaced valving provides necessary adjustment to ensure the extra handling and stability. The nitrogen gas charge reduces the aeration and shock fade and improves the performance of shocks. Moreover, it maintains the tire-to-road contact and modifies it to handle extreme temperatures.
3. Bilstein 4600 Series Shock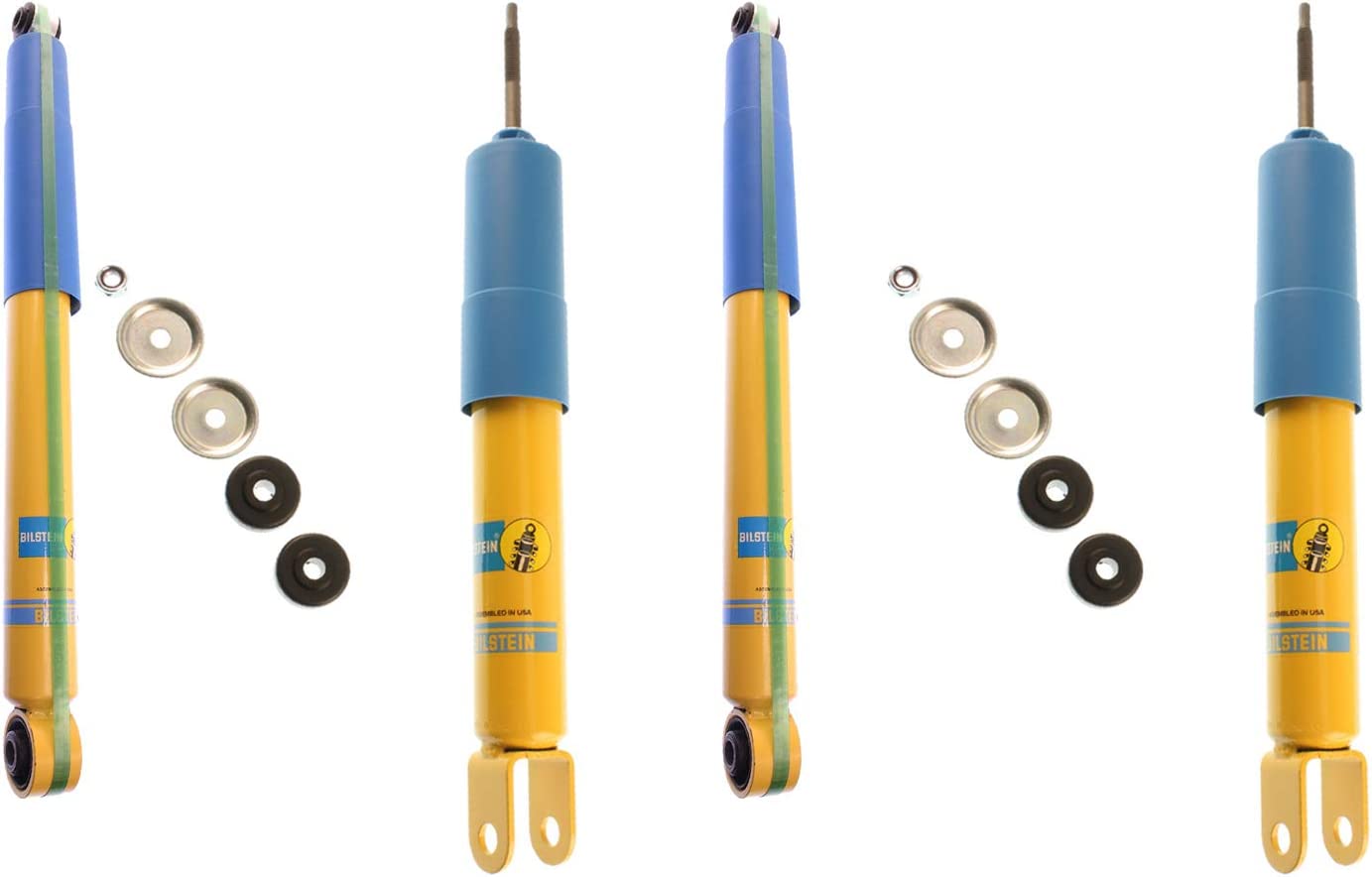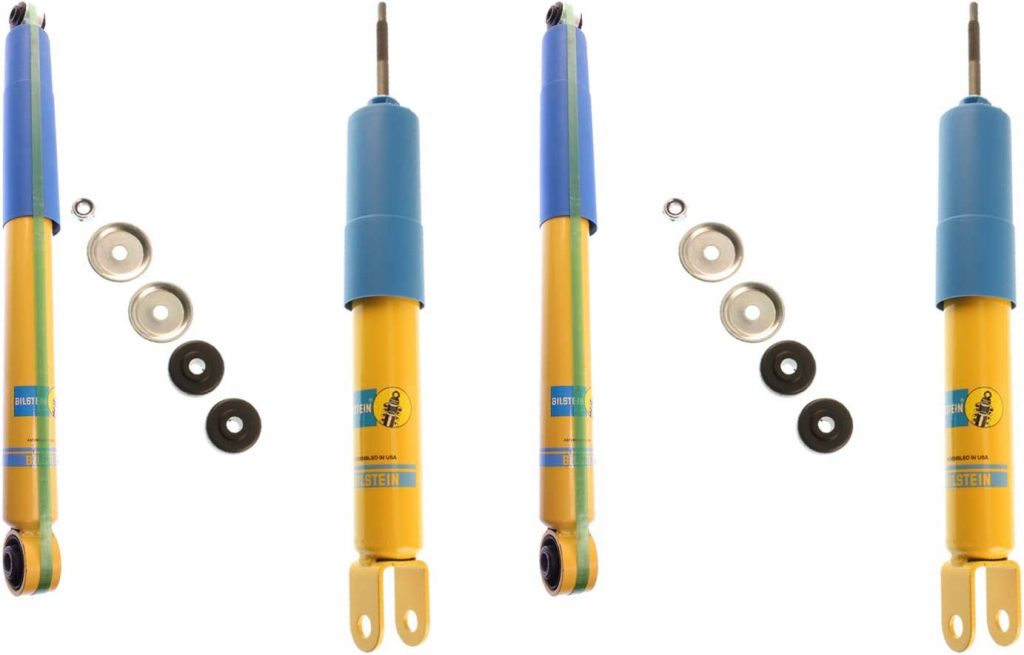 Bilstein 4600 is a monotube gas shock and is the gold standard in the shock industry. The kit includes a front and rear 4600 Series Bilstein shock absorber. The best part is the monotube gas pressure technology which provides improved stability and handling. This smooth body shock absorber has ultimate performance and gives incredible control.
Additionally, no modification is required for installation and it can be directly installed without any special tool. The shock absorbers reduce the vibrations and rebounce to make driving comfortable and safe. Bilstein 4600 series shock absorber perfectly fits the 1999-06 Chevy Silverado and GMC Sierra 1500 4WD. The rear shock offers superior responsiveness that remains with any harsh condition while the front counterpart delivers maximum control and precise handling.  The standard rubber bushings improve the quality significantly and even during sharp turns at higher speed it maintains control.
The price of the product is the limiting factor for some marques however, this is the best product regarding its durability and performance.
4. Rough Country Rear Shock Absorber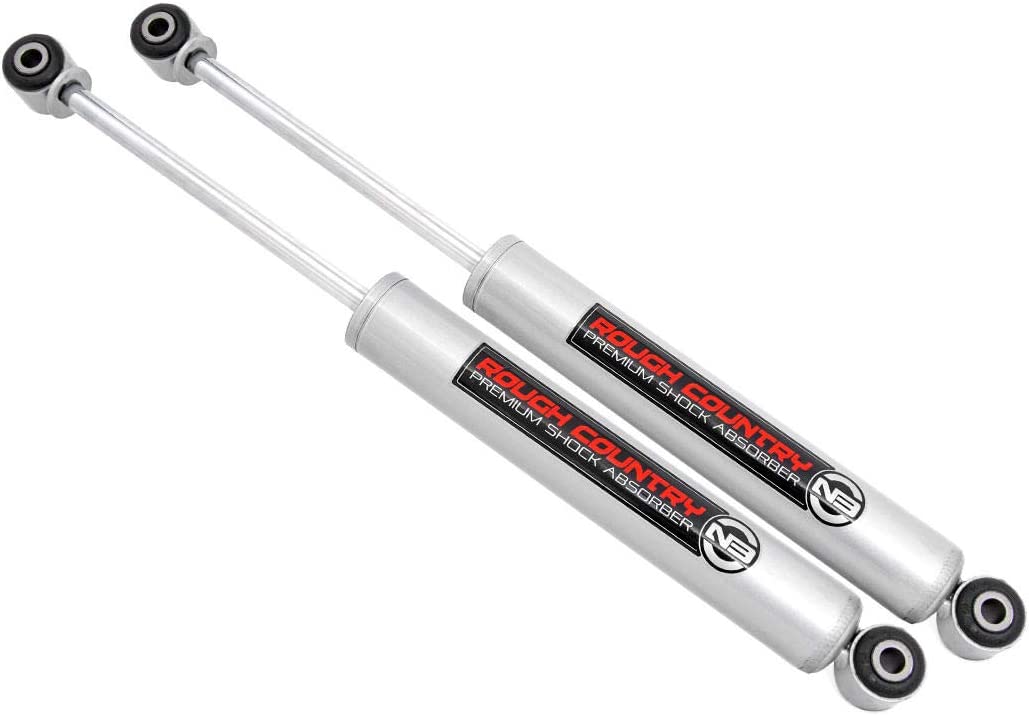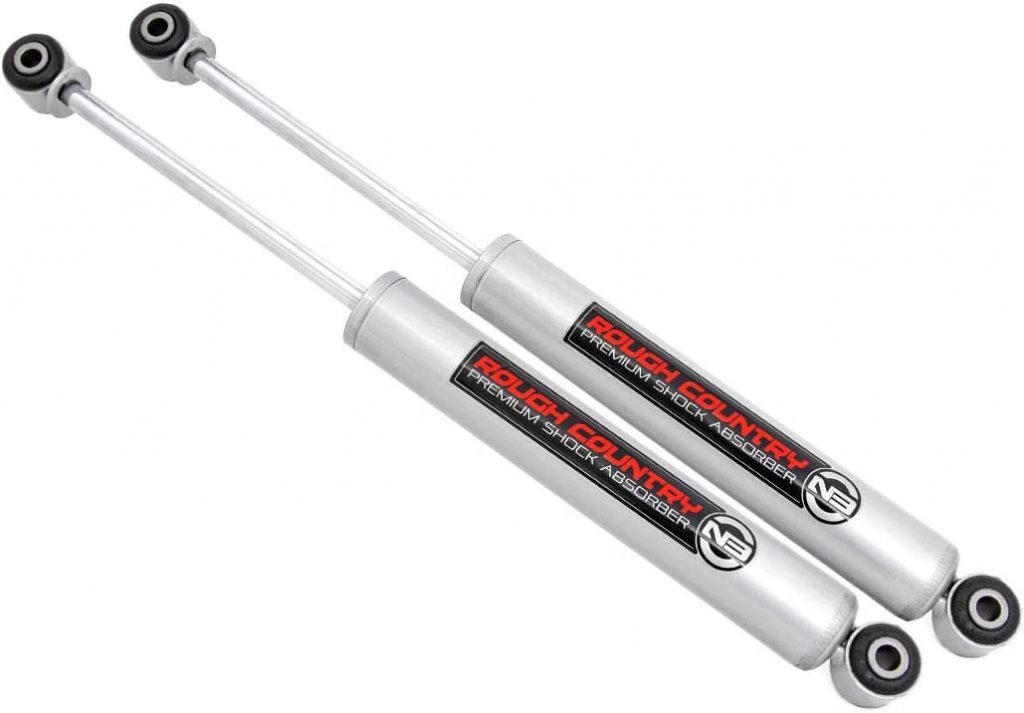 Rough Country shock has a floating piston that separates high-pressure nitrogen and shock oil. The spring-loaded piston rod seal provides incredible control and handling on all road conditions. The T6061 brushed aluminum body with black anodized accents helps to dissipate heat faster as compared to other materials. These shocks are specially designed to mount the body up to give the vehicle an interesting look. 
Due to improved response, the user's rate this design above the stock shock absorbers and you can instantly notice the difference in ride performance after installation. Impressively, the 54mm shock body has eye-catching silver paint and fast cooling response to enhance ride consistency even on a bumpy/rough road.
5. Rancho RS5000 Shock Absorber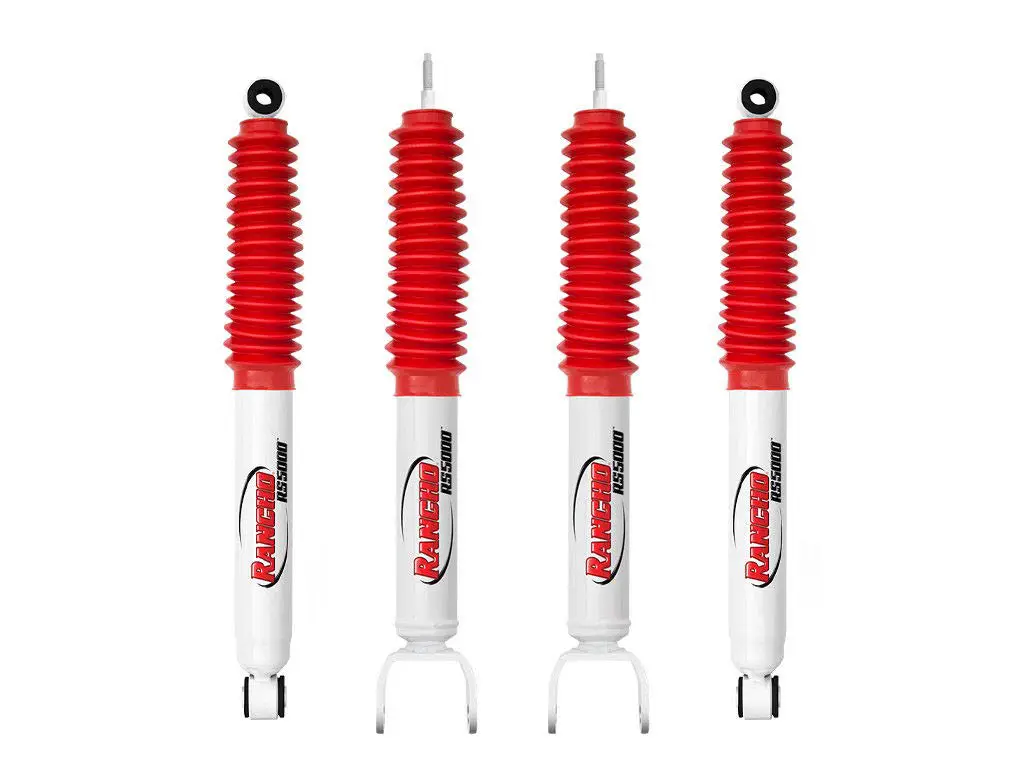 The kit includes RS5000 front and rear shock absorbers that fit the GMC Sierra 1500 and Chevy Silverado. The 16mm piston rod provides extra stability and shock including red protective boots.
Additionally, the specific tuning for every vehicle is provided by ten-stage velocity sensitive valving.
The steps involved in installation are not trick and hard. These shocks are specifically designed for 4WD vehicles like the GMC Sierra 1500 that carry heavy loads. The best quality of these shocks is their ability to provide the utmost systematic response at such a low price.
6. Wulf Shock Absorber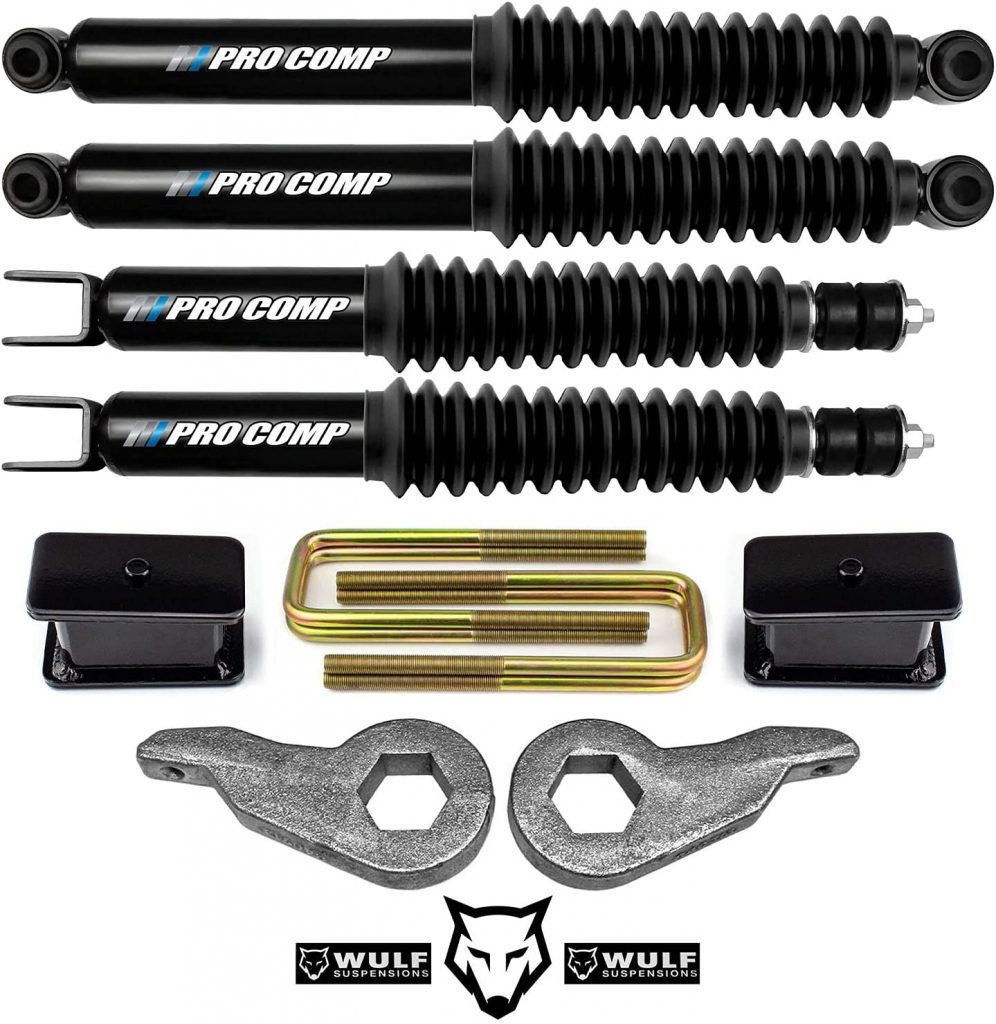 Wulf shock absorbers are specially designed for truck enthusiasts to provide ultimate driving performance. These shocks are made up of highly durable alloy steel. The kit includes nitrogen gas tube shocks, zinc-coated U-bolts, hardware, and black shock dust boots. The adjustable front lift torsion keys deliver a safe and comfortable riding experience.
Besides this, the installation is a little bit tricky and it may require a professional for the perfect set-up. This shock absorber fits perfectly on the 1999-2007 GMC Sierra 1500 and Chevy Silverado. These shocks are corrosion resistant and have the capacity to withstand extreme temperatures.
7. KYB Shock Absorber
The brand is well known due to its product reliability and excellent performance. The best feature of the shock is to provide extra strength for tough conditions. If you are looking for a durable item that not only smoothens your ride but also gives original capabilities to your vehicle so this is the correct option. 
KYB mono mix is a monotube shock that can balance the heavy load without any vibrations and rebound even in tough conditions. This shock fulfills all heavy-duty truck demands and doesn't require any tricky process for integration. The kit is adjusted in 1999-2006 GMC Sierra 1500 and enhances its stability, performance, and handling. Overall, the shocks are great for hauling or towing.
Conclusion
The shock absorbers are an essential part of a vehicle that helps to maintain control, stability, and performance. So before purchasing any type of shock absorber one should have the proper knowledge to pick the best shock for the GMC Sierra 1500.
I hope this article will guide you in picking the best shock for your GMC Sierra 1500 4WD. Moreover, your final choice would depend upon the specifications and compatibility of the particular shock with your vehicle. So be prepared to ride off on the bumpiest road and face harsh conditions.