The dust particles, scratches, swirls, and watermarks are more prominent on black-colored cars than on others. Your car needs a bath that can make your vehicle look like glass. But the question that comes to mind is, which product is best for a car wash that enhances the paint gloss without damaging it? There are many car soaps available in the market but it's a trick to choose the best car wash soap for black cars.
It's essential to get the best car shampoo that not only removes dust and grime but also protects the wax from damage. Moreover, you have to ensure that the car soap is of premium quality to ensure no scratches or dullness and gives a deep shine. There are a few tips so you can easily select the best car shampoo for your car:
Balanced pH:
Before applying any soap to your car makes sure it should be pH neutral. The best car shampoo is pH neutral which means that its pH is equal to water and doesn't harm any type of wax or coating.
Formation of foam or suds:
Foam and suds should be much more effective to lift away all the road grim from the car surface. It prevents the car surface from scratching and allows a thorough cleaning process. More and thicker foam lubricates the surface and removes all the contaminants efficiently.
Streak-Free Formula:
Low-quality car soap leaves spots and streaks behind after a wash. Therefore, a premium quality car soap is the right choice for car paint as it not only provides protection against damaging elements but also helps to retain its finish.
Concentration:
A car wash soap concentration suggests the dilution ratio and how long will it last. For the best cleaning action, you have to follow the dilution ratio.
Protection:
Car wash soap lubricates the car's surface and protects it from scratches. Moreover, some of the car soap formulas contain waxes that prevent the car paint from further damage.
Scent:
Every car wash soap has a different scent so it can make your car wash pleasant or unbearable. So, it's important to know about the scent of the soap if you are allergic to some smells that can make your car wash difficult.
Color and shine enhancement:
Car wash soap not only rinses off the dust and road grime but also enhances the paint's shine.
A shining black car looks more attractive than a dull one.
Biodegradable:
A car wash soap should be biodegradable so it doesn't harm our environment in any term.
While the choice of the best car shampoo depends on your cleaning needs. Certainly, this article would guide you on how you can choose the best car soap for black cars.
These are some best car wash soap for black cars
1. Chemical Guys Mr. Pink Car Wash Soap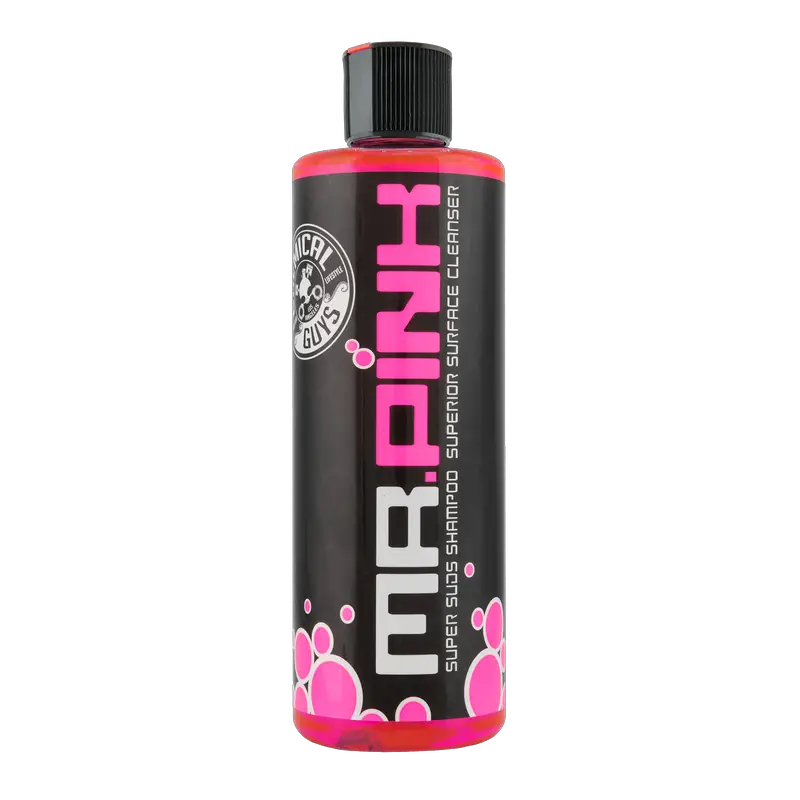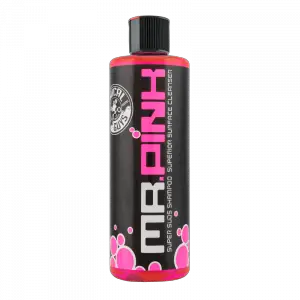 Chemical Guys car soap is one of the most recommended brands in the market because of its enhanced quality and efficiency. Since its production, it is consistently getting the best ratings and reviews. A great way needed for the best and clean car detailing is a proper car wash with a car shampoo that produces thick foam. Mr.pink produces dirt-fighting, thick foam that can clean any type of vehicle.
Moreover, you can use car soap with a wash mitt and a bucket, a foam gun, or a foam cannon that is connected to a pressure washer. This soap is made in the USA and is a professional-grade product. It is a pH-neutral car shampoo that doesn't strip off the wax, sealant, or ceramic coating. This pH-neutral formula can be applied to any type of car paint.
The product smells good and secures the paint shine as well.
2. Meiguiar's Gold Class Car Wash Shampoo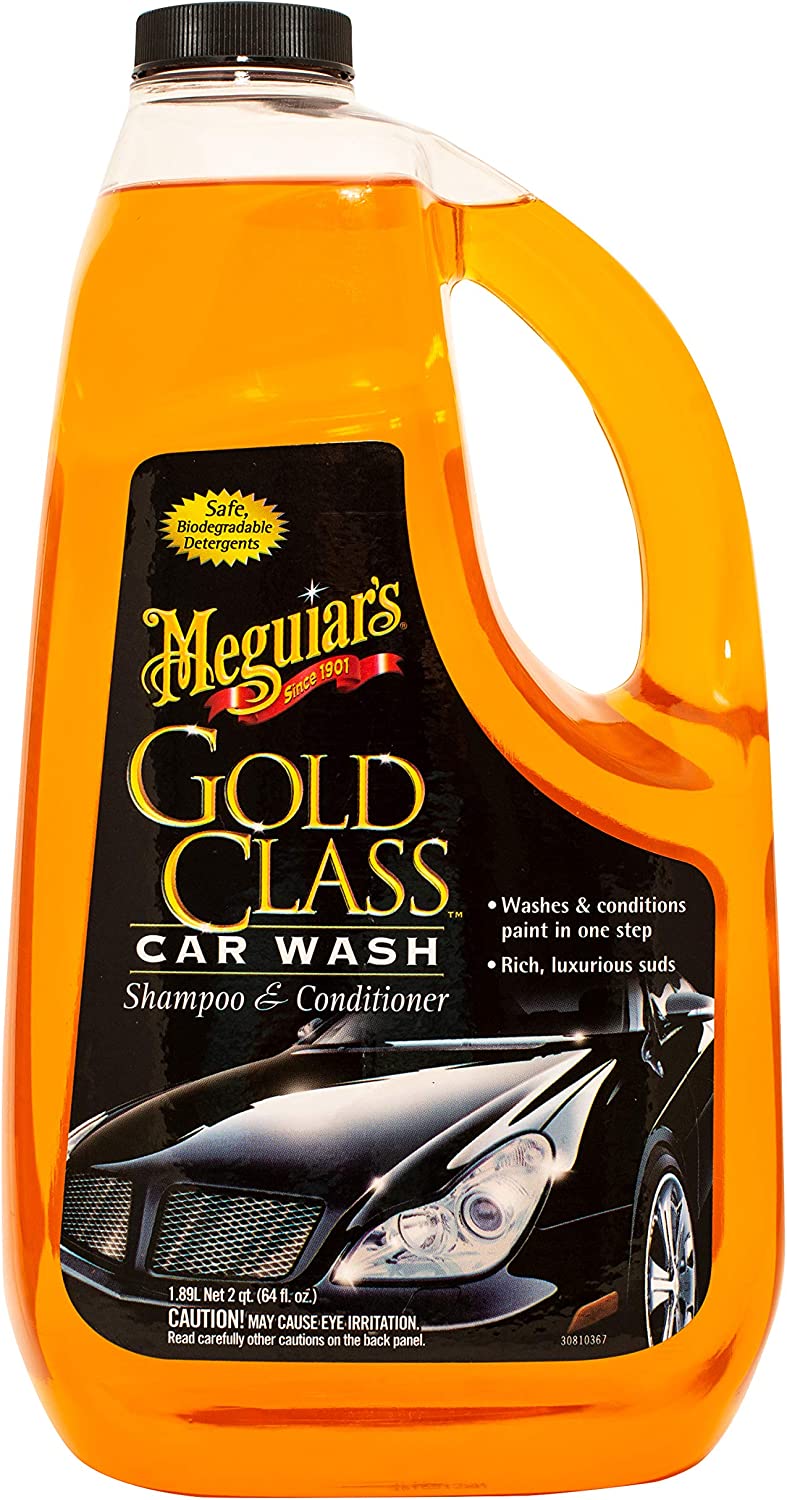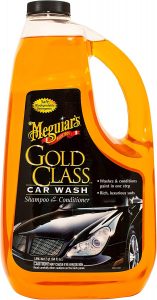 Meiguiar's car shampoo is a premium formula that can remove tough dirt, grim, and contaminants without stripping away the paint coating in only one step. The ultra-rich conditioners offer extra foaming and sudsing that leave the paint with a radiant bright shine.
This car soap is safe for all types of car paint. The dilution ratio for use is one ounce per gallon of water or you can take it as required. Moreover, you can apply it with a wash mitt, foam gun, or foam cannon.
This is the perfect blend of shampoo and a great soap that will not harm your car finish. Additionally, it smells nice and is very easy to use without any foam cannon as the thick foam is produced.
3. Optimum No Rinse Wash And Shine

If you are in search of an extreme shine-providing formula for your black car then Optimum No Rinse is the best and highly recommended formula. This is a specialized formula that makes the bond with the car paint and lifts off all dust, debris, and road grim from the surface.
This is not a soapy formula so you can recover the car shine only in 1-2 gallons of water. The formula contains polymers that form a barrier to the car paint and protect it from all harmful contaminants. The soap is strong enough for professional car detailing and no equipment is required for the spotless car wash.
Additionally, this is a biodegradable product and doesn't environment in any way. It can be used as a clay bar lubricant for any type of car paint.
4. Mothers California Gold Car Wash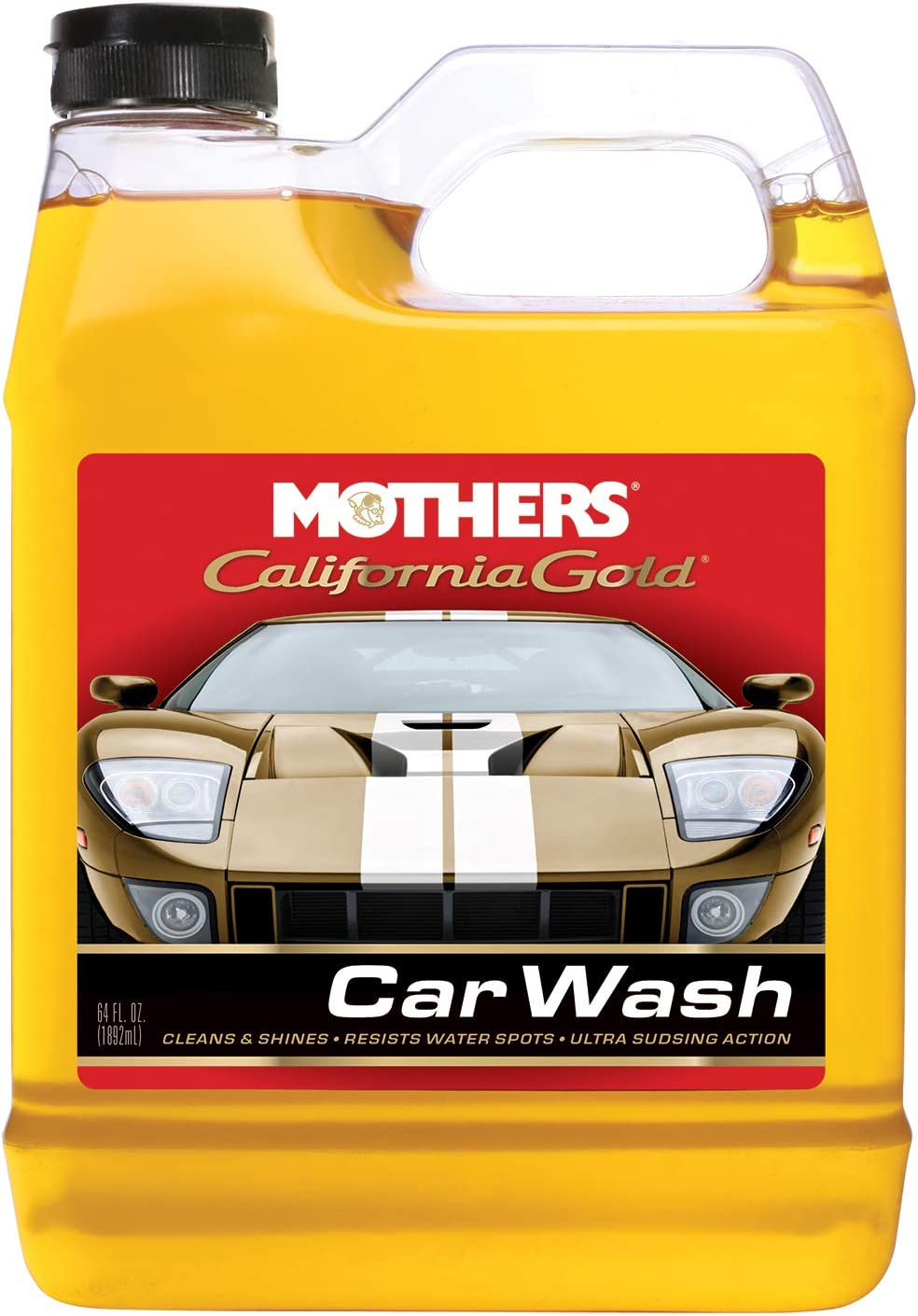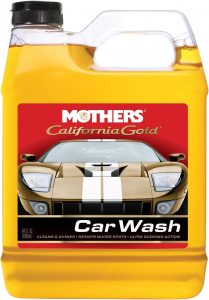 The radiation coming from the sun can extremely damage the clear coat of car paint and mostly reduces the shine of black cars. The worst car paint damage due to sun exposure can be recovered using the highly specialized cleaning formula.
Mothers California car soap is a pH-balanced product that has maximum cleaning power. Further, it can lift away the toughest road grime and all harmful elements without scratching the paint.
Also Read: How to Remove Cloudiness from car Paint
5. Turtle Wax Ice Car Wash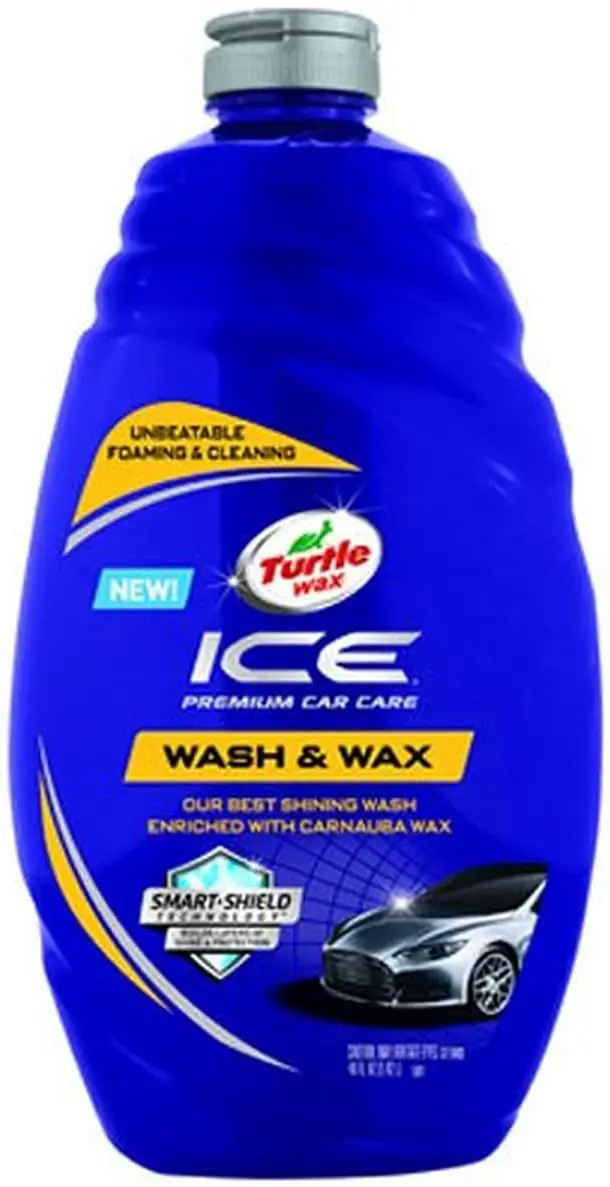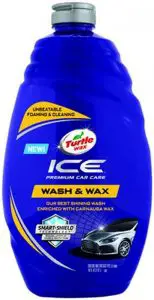 Turtle wax car wash is a wax and wash product that is manufactured from high-quality ingredients. The pH-neutral formula doesn't harm pre-existing sealant and wax layer. This car shampoo contains synthetic polymers to provide lubrication against tough road grime.
It contains shine enhancers that provide car paint with a spot-free shine. In a gallon of water, add 1Fl oz. car soap to activate the foam. It also contains waxy compounds that form a barrier against dust, dirt, and sunshine.
6. Adam's Car Wash Shampoo


Adam's car shampoo is a particular shampoo that prevents scratches and water spots. This soap makes the car's surface smooth and shiny. Moreover, the concentrated formula provides sudsy and thick foam with a foam cannon or gun.
This premium quality product is applicable on all surfaces including windows, tires, and paints. Adam's car shampoo doesn't strip off waxes, ceramic, and sealant coatings from the car surface. This shampoo can be applied with sponges, mitts, brushes, or any other application tool.
7. Chemical Guys Citrus Car Wash Soap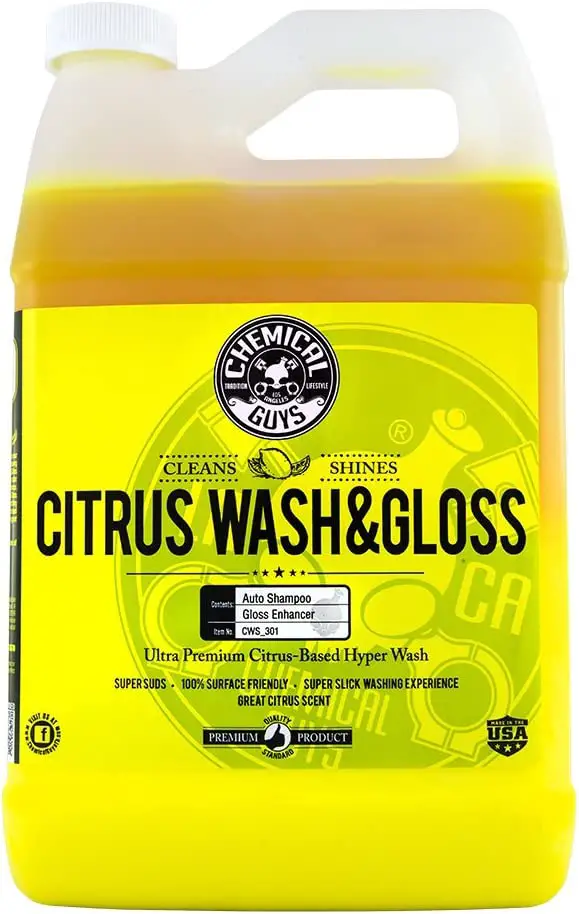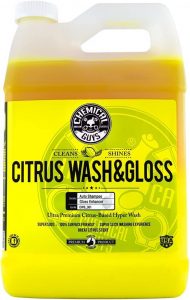 The slickest citrus formula is formulated to outshine most waxes. It is a heavy-duty product that contains shine enhancers and provides extra gloss. Due to its citrus concentration, it lifts road grime, dirt, and soil more efficiently.
Furthermore, the soap gives perfect gloss with 1oz. In 5 gallons of water.
8. Chemical Guys CWS Honeydew Snow Foam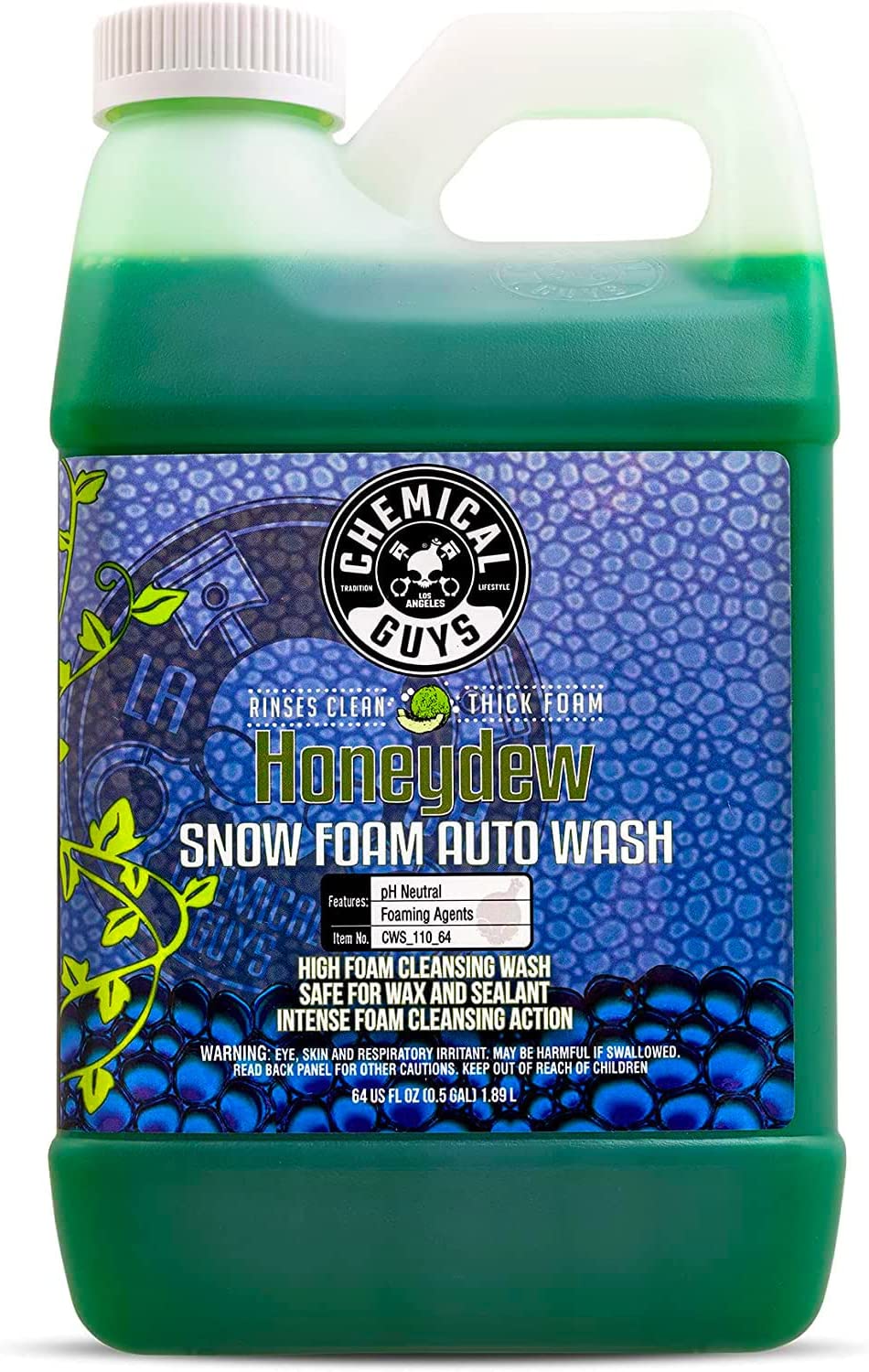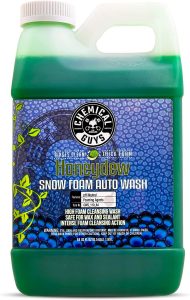 Foam or suds quantity and thickness matter a lot especially washing a black car covered with tough dirt. If you are in search of such car soap then Chemical Guys Honeydew Snow Foam is the right option.
As the name shows, it is so much foamier and sudsier due to the surfactants in it. Additionally, it is a concentrated formula so a little amount of it is required for dilution whether for a foam gun, a foam cannon, or hand washing.
It smells like honey and is capable of intense cleaning. It prevents water spots and leaves a residue-less shiny paint. The foam lubricates the contaminants and makes the cleaning action easier for a scratch-free surface.
The pH of the car soap is neutral so it doesn't strip off the wax layer from the paint. It is a biodegradable formula and safe to use on any car part.
9. Meiguiar's Ultimate Wash and Wax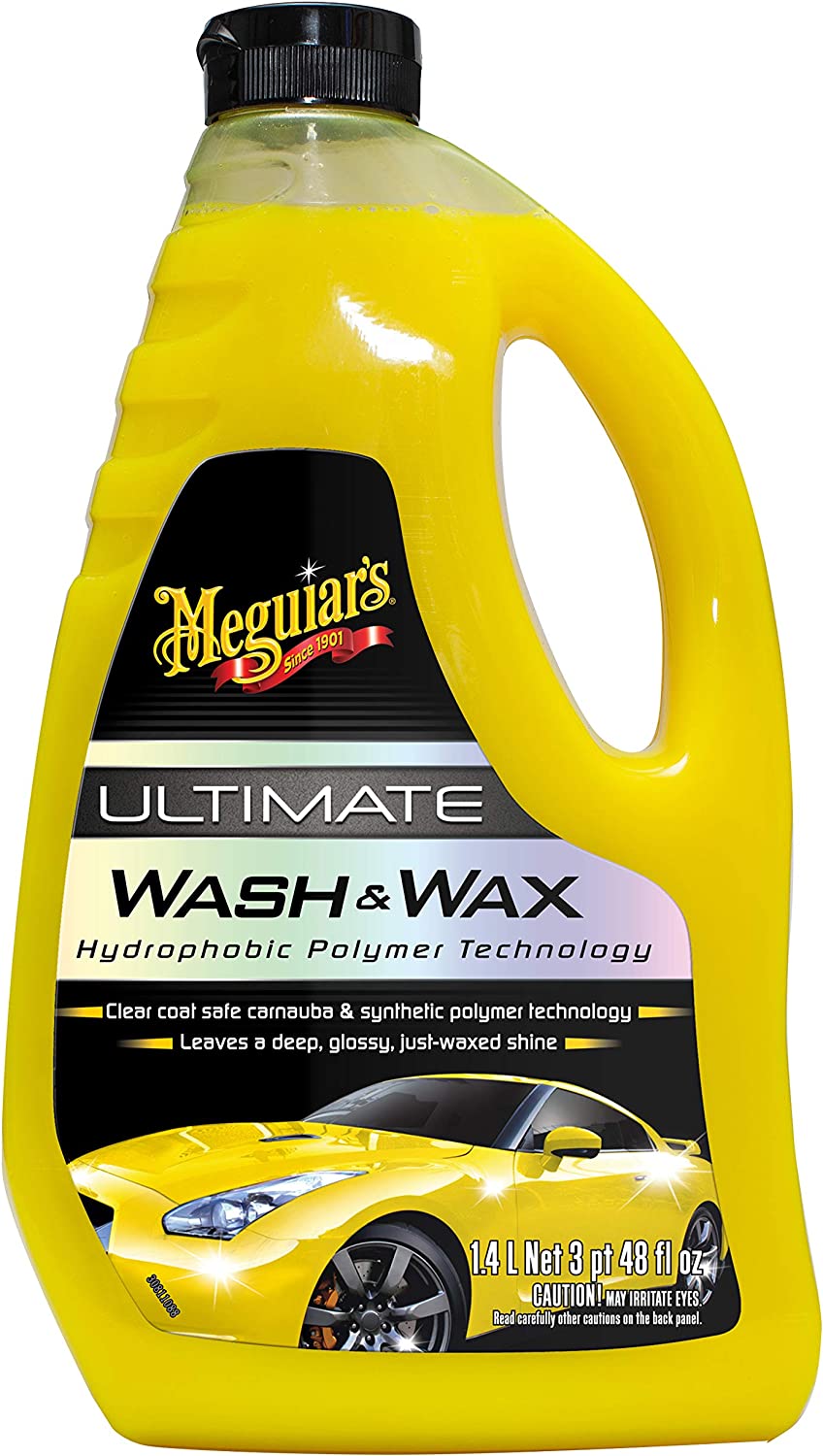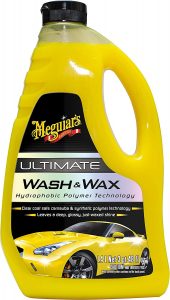 Meiguiar's ultimate car wash soap is an actual pH-balanced formula that contains real carnauba wax with many synthetic polymers. The wax layer is retained on the car's surface to protect it from damaging factors of the environment.
The dilution ratio of car wash shampoo is one ounce in a gallon of water which is enough to create thick and abundant foam. The foam is so strong that it effectively lifts off the dirt and enhances the paint's shine.
The car wash soap has a pleasant lemon cake-like smell. No soap residue remains after rinsing with water.
10. Armor Car Wash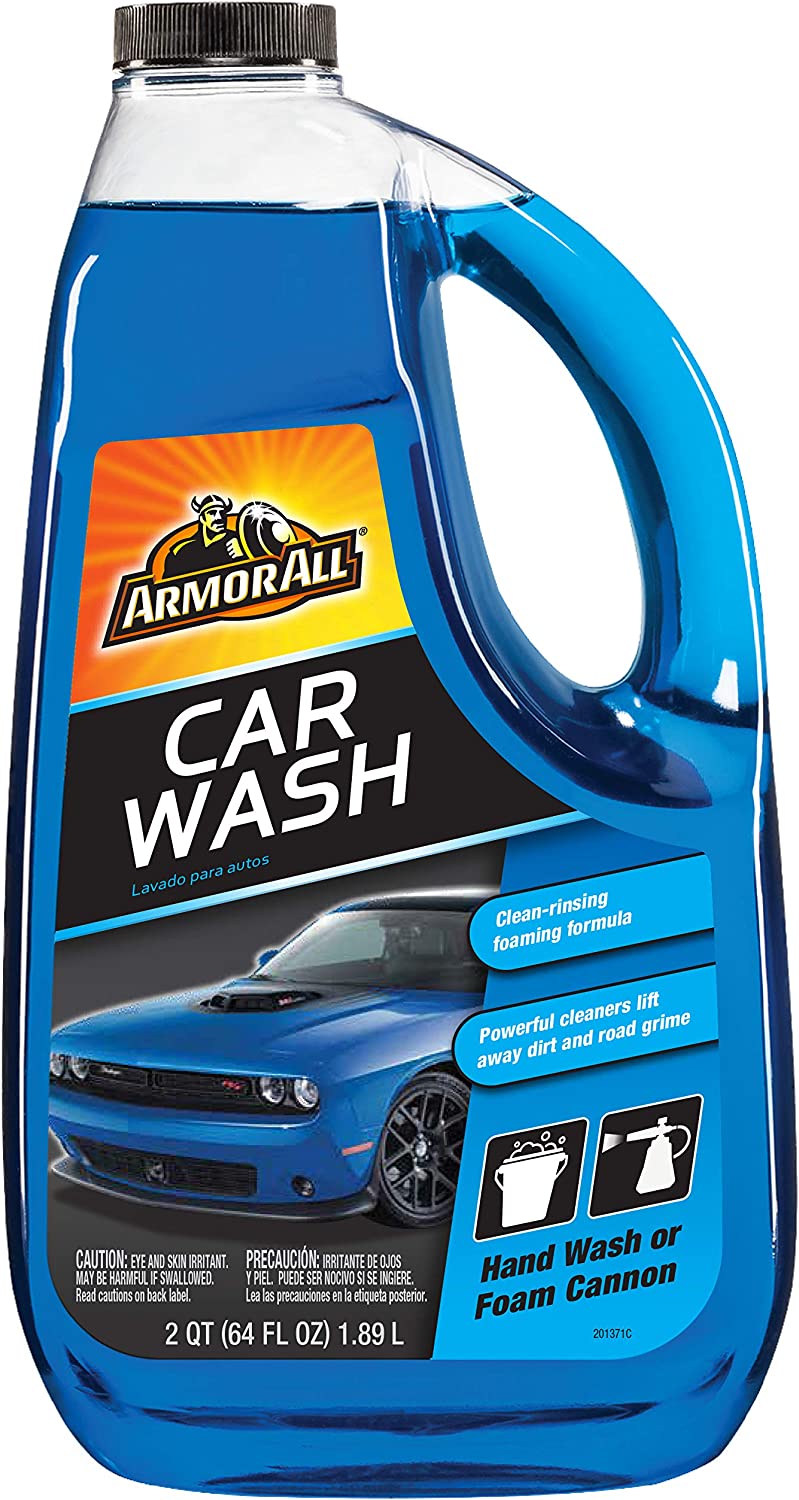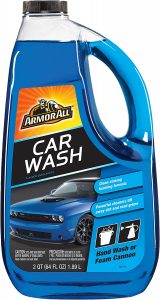 Armor car wash soap is one of the best car soaps especially for cleaning black cars because it contains premium quality components. It doesn't fade or crack the car paint and protects the clear coat from all damaging factors.
A small amount of car soap is required for best cleaning action and doesn't last for several months. The soap is compatible with motorcycles, cars, and even on trucks. For safe and professional detailing, Armor car wash is the best option due to the presence of shine enhancers.
11. Chemical Guys Bugs and Tar Remover Car Wash Soap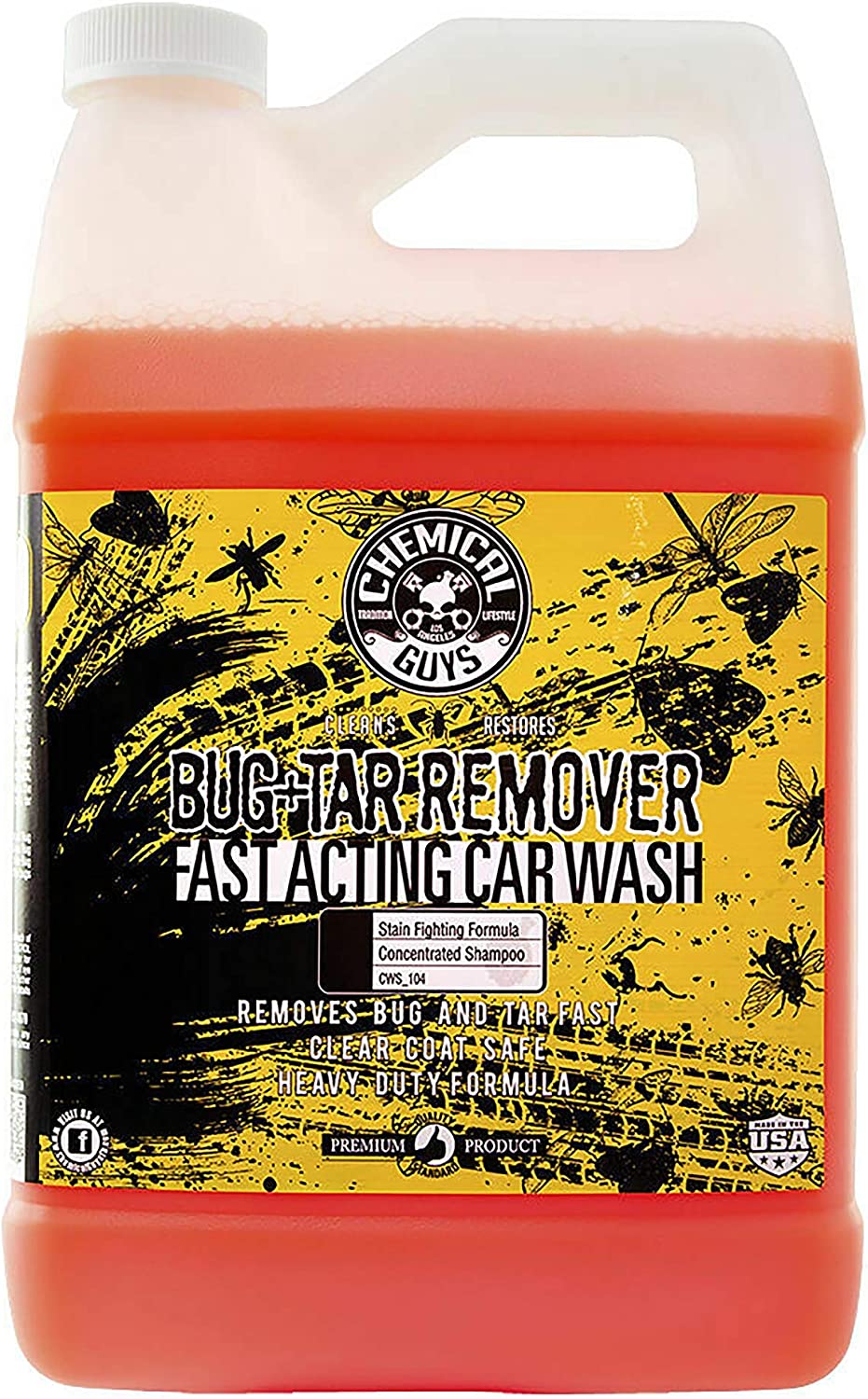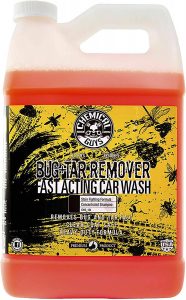 This is another excellent concentrated bug and tar-removing formula presented by Chemical Guys. This car wash soap effectively and safely removes bird droppings, road grime, dust debris, bugs and tar.
The car wash soap loosens the stuck-on bug and road grime saving energy and time. It is mostly recommended for cars, trucks, SUVs, jeeps, and other vehicle surfaces. A cap full of car wash soap is required for a gallon of water.
12. Adam's Mega Foam Car Wash Soap
Adam's mega foam car wash soap creates a huge amount of thick foam and sud that lubricates the dust debris to provide a smooth shiny surface. It is specially designed for foam cannons and foam guns to provide the amount of suds necessary to clean your vehicle thoroughly.
It is a blend of advanced cleaners and polymers that safely removes pollens, dust, and other contaminants. Moreover, it doesn't strip off sealants, wax or ceramic coatings and very gentle to plastic or rubber components.
The polymer-based chemical technology provides unnbeatable shine. Also, the car wash soap reduces the chances of ever-inducing damage.
Conclusion
There are some of the best car wash soaps for a black car I mentioned above but still, it depends on you to select the best car wash soap that fulfills your requirements. The best car wash soap will effectively clean your vehicle without damaging its finish and enhances its shine.