Jeep is a well-known automotive company for its highly durable vehicle with incredible off-road features. It primarily manufactures SUVs and offers a premium driving experience to its drivers. As everybody knows, SUVs are higher from the ground, and most users need side steps to get in the vehicle. Side steps are essential for higher cars as they help drivers and passengers to get into vehicles easily.
As you know, jeep gladiators are famous among jeep users and are mainly used for off-roading. Therefore I will write about the best Jeep Gladiator side steps. Before this, we will discuss choosing the right side steps.
6 Best Jeep Gladiator Side Steps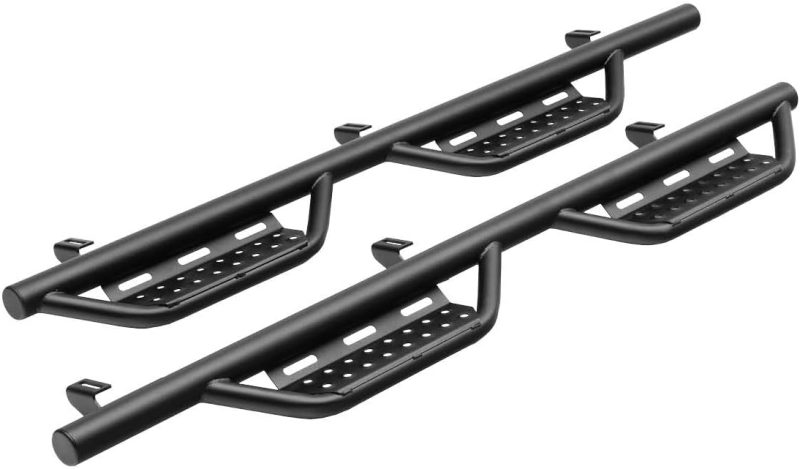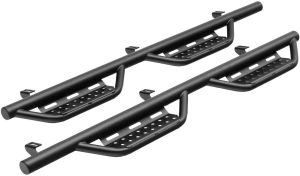 N-Fab Nerf Side Steps J1980T is one of the best side steps for jeep gladiator. These side steps are made of highly durable alloy steel and are designed to fit a high and tight vehicle body. The N-Fab Nerf Steps bars are effortless to install due to their bolt installation and all mounting hardware included in the package. When we talk about looks, these side steps are available in premium texture black coating, giving your Gladiator a modern look.
These side steps contain dimpled metal plates for more reliable traction and stability while getting in and out of your jeep in lousy weather conditions. Their rugged and tough construction protects your Jeep Gladiator door from dents and scratches while off-roading. And these Nerf Steps are available in two variations Nerf and Nerf RS. N-Fab offers five years warranty on these side-step product's finish and a limited lifetime warranty on workmanship.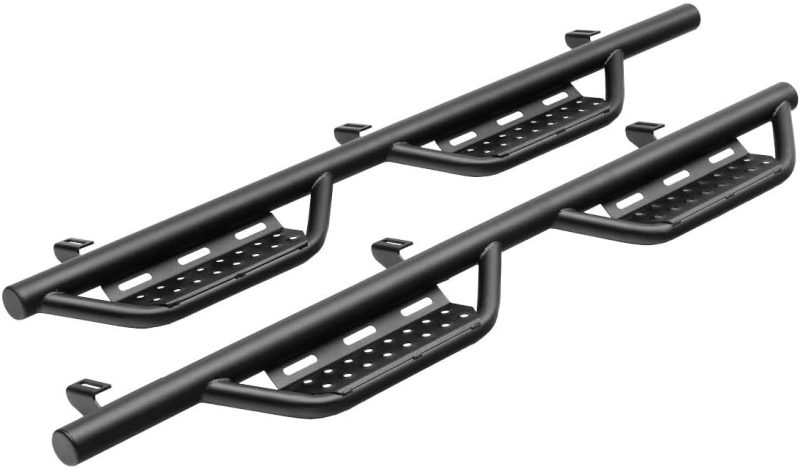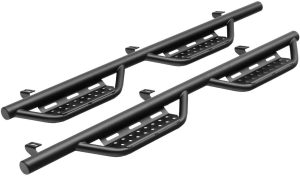 Many users highly recommend this pair of Best Jeep Gladiator side steps. N-Fab Podium LG Steps perfectly fits on Jeep Gladiator. It is made of highly durable stainless steel and comes in two colours Premium Textured Black and Polished Stainless.
It is designed to enhance your Jeep Gladiator Modern look. Aside from looks, it's equipped with podium steps for easy access to your stock or lifted vehicle, which offer reliable traction in wet weather. These side steps are very easy to install as the installation manual and mounting hardware are included in the package. This product is also backed up by a five-year finish warranty.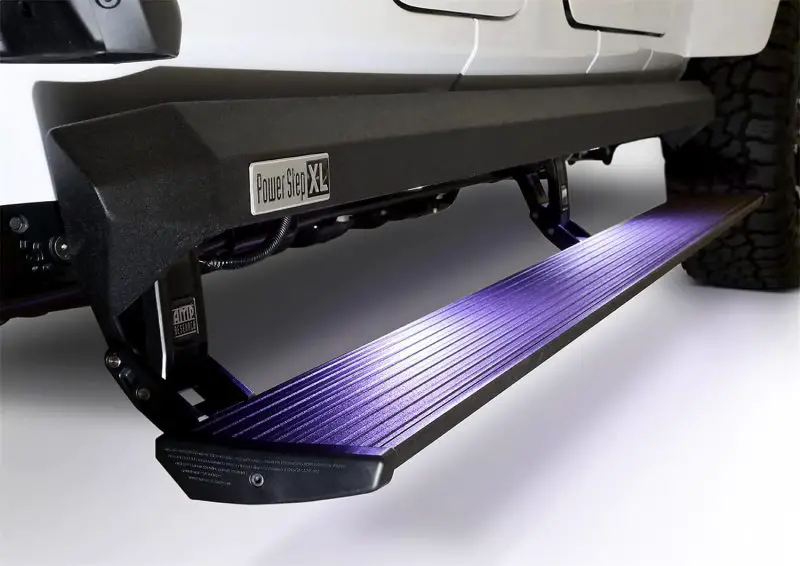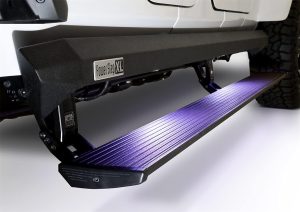 If you want easy access and fashion from your Jeep Gladiator side steps, then AMP Research PowerStep XL is perfect. These are electric running boards that extend when you open your door. AMP PowerStepXL offers a 3-inch dropped stepping surface, which makes entering and exiting your Gladiator much easier. These side steps are made of marine-grade aluminium and fold into a rigid rock rail.
The feature I love in these step bars is the integrated LED light system which makes entering and exiting your vehicle easy at night. These electric side steps are equipped with high-quality electric motors, a drive system, and a wiring harness, which are waterproof and pressure sensitive.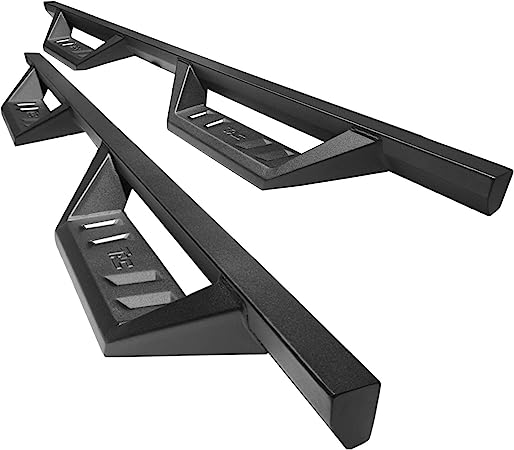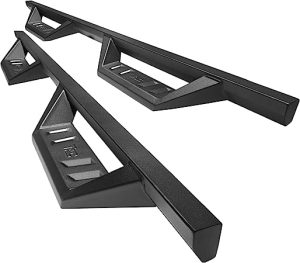 TAC sidewinder running boards are made of the finest 2mm thick carbon steel, making them best for those facing rock and obstacles daily off-roading. These side steps precess e-coating and powder coating for double rust resistance and can lift 500 LBS load on each side. This product contains a 4″ drop and 5″ wide steps pad, which offers more protection and makes stepping in and out of your vehicle much easier.
Additionally, these steps make your Gladiator looks more attractive. These side steps are also straightforward to install on bolt installation and come with all mounting hardware. And also comes at a very responsible price.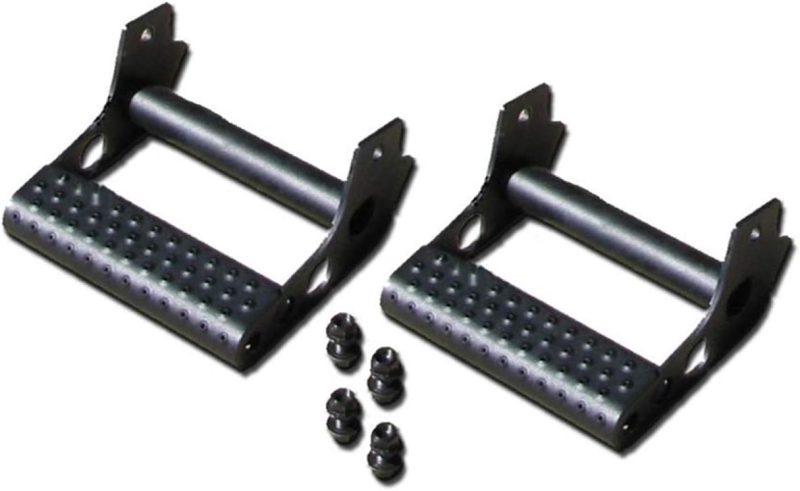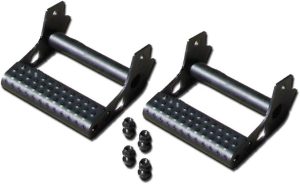 N-Fab RKR detachable steps are another best Jeep Gladiator side steps by N-Fab. These side steps are high-quality Alloy steel with Textured Black coating. Suppose you are looking for side steps to access your vehicle interior easily without spending much money. In that case, this product is best for you. The stepping areas contain dimple plates which provide the best traction in a wet environment. It perfectly fits on Gladiator and protects the side and doors from dents and scratches.
Additionally, these side steps are designed to match the outstanding looks of your Gladiator. These side steps are easy to install with on-bolt installation. As mentioned above, this product also comes with 5 years finish warranty and a limited lifetime product finish warranty.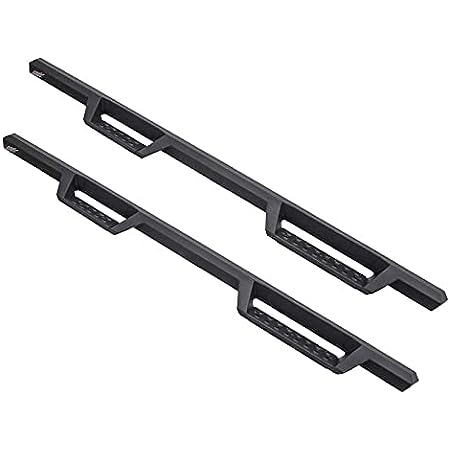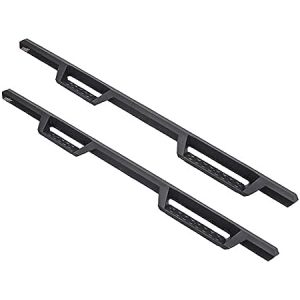 Westin 56-14165 HDX is another best Jeep Gladiator side steps option. These side steps have an award-winning 1-piece notched bar design and feature 2 inches stepping area, which is more than competitors. It is constructed of mild steel of outstanding strength and power coated for looks.
This product is tested on Gladiator to ensure perfect fitting and performance. Westin 56-14165 offers easy on-bolt installation, with all mounting hardware and a DIY installation manual.
How to Choose The right side step?
Choosing the proper side steps is essential because there are two different kinds of side steps for various purposes.
Rock Sliders
As the name shows, rock sliders are designed and built to slide or deflect rocks and other hard surfaces. Rock Sliders are the most brutal side steps option. Rock sliders are constructed of heavy gauge steel and designed to support the weight of a jeep on rocks and obstacles. These rounded side steps and slight angles allow the jeep to slide over rocks and obstacles and prevent doors from damage.
Step Rails
If you use your jeep for overlander and camping trails and need a platform to get in and out of your jeep, then side steps like N-Fab RKR Detachable Steps are best. Step rails are constructed of steel tubing, providing a nice layer of protection to the side of the jeep.
Final Thoughts
If you are looking for the best side steps for your Jeep Gladiator, always go for the bars which offer protection to your vehicle sides while giving you easy access. According to my opinion and user reviews N-Fab Nerf Steps J1980T is the best choice if you are looking for something durable and long-lasting.
Frequently Asked Questions
Do side steps provide any protection?
Yes, most side steps protect your vehicle's sides. But it depends on the design and quality you choose before buying. If you prefer rock railers, they protect your vehicle by deflecting and sliding on rocks and obstacles. At the same time, simple Nerf bars do not give the same protection as rock railers during off-road driving. But, if you owe a gladiator, installing sidebars is wise.
How do you install side steps on a Jeep Gladiator?
Installation is the most important when you are going to buy side steps for your jeep gladiator. Most high-quality side steps have existing space in the frame for mounting, preventing power drilling to your expensive jeep. So, if you want to buy a pair of side steps for your Gladiator, always check the installation point and see user reviews about installation and fitting. Side steps have an installation manual so that you can install them yourself with a friend's help at home.
What are the benefits of having side steps on a Jeep Gladiator?
There are many benefits of installing side steps on a Jeep Gladiator. Side steps protect your Gladiator sides and doors from scratches and dents while driving on rough tracks. Additionally, they provide you easy access to enter and exit the vehicle. You can access your gladiator roof easily by stepping on side steps. They protect your Gladiator doors from mud and small rocks on rough tracks.